1000t/h Weathered Stone Crushing Production Line Installation in Kunming, Yunan
author:dahua2 time:2021-12-02
Recently, the complete set of 1000tph stone crushing equipment in Kunming, Yunnan Province, which is provided by Luoyang Dahua Heavy Industry Science and Technology Co., Ltd. is orderly construction and installation. The stone production line is carefully designed and completed by our company from project planning, process design, civil engineering design, non-standard parts design, and belt conveyor selection. The production line is equipped with coarse crushing workshop, medium crushing workshop, fine crushing workshop, sand making workshop, etc.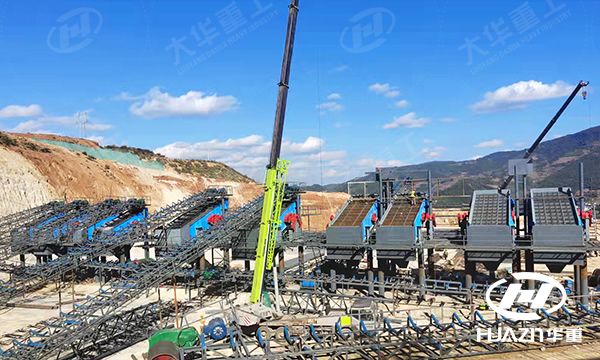 【Project Equipment】
   The main equipment used in stone crushing production line is composed of ZSW2160 vibrating feeder, JC125 jaw crusher, PFQ1520 impact crusher, PFL2000III vertical compound crusher, large-scale vibrating screen, ZG series vibrating feeder, etc.
[Project advantages]
   1. Reasonable process design, high yield and high efficiency
The raw materials of this project are mainly weathered stone, the composition of the raw materials is relatively complex, and the content of medium and small stones in the raw materials is relatively high. We have fully considered the actual conditions of the raw materials when designing the process and selecting the equipment, and optimized the process and equipment, and the production efficiency of the production line Higher and more optimized work efficiency.
  2, uniform grain, good appearance
  The finished product produced by this production line has uniform particle size, excellent sand type, reasonable gradation, and high yield.
  3, environmental protection
  The whole stone crushing production line adopts dry production plan, fully sealed workshop, equipped with dust removal equipment, effectively reducing dust and noise pollution, and strictly controlling environmental protection requirements.