3 Factors help You choose the right type of vibrating screen for the sand and stone production line
author:dahua time:2021-07-28
Vibrating screen is the screening machinery that uses granular material and screen surface relative movement, making some particles, sand, gravel and other materials through the screen hole according to particle size into different levels. Vibrating screen is a necessary auxiliary equipment in the sand and stone production line. Its selection directly determines the quality of the final finished sand and stone. In this article, Luoyang Dahua technical personnel shares 3 factors for the selection of vibrating screen.
3 factors should be considered in selecting the type of vibrating screen:
1. The characteristics of the screening material (the content of the particle size of the material under the screen, the content of the particle size that difficult to screen, the content of water and clay in the material, the shape of the material, the specific gravity of the material, etc.).
2. The structure of the vibrating screen machine (screen area, screen layer number, screen size and shape, screen area rate, screen machine movement, amplitude and frequency, etc.).
3. Requirements of mineral processing process (processing capacity, screening efficiency, screening method, screening machine inclination), etc.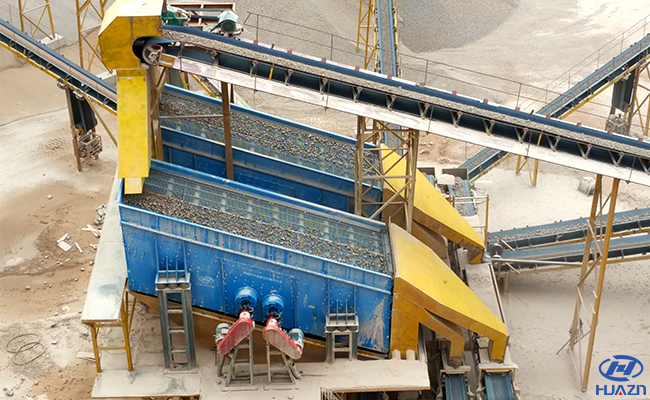 Luoyang Dahua has YKR series vibrating screen, ZKR series vibrating screen, NS series vibrating screen, and horizontal screen. The processing capacity is from 80-2200 t/h.
YR vibrating screen is the hot product in the company, the machine has following features:
1. The frequency, amplitude and angle of vibrating screen can be adjusted, which increases screening efficiency.
2. It can use the wire screen or polyurethane screen (tension type and modular type) with different mesh size.
3. The vibration exciter has been designed with block eccentric, external modular and integrated, and can be lubricated by oil lubrication or thin oil automatic lubrication.
4. Flanged side plate, beam and supporting base are connected with high-strength bolts. So that there is no welding stress existed.
5. Elimination of vibration technology is applied to avoid horizontal shaking caused by sympathetic vibration when start or stop the machine.
6. The composite rubber springs are used with features of stable vibration and low noise.
7. It is optional to use the dust-proof sealing device for the vibrating screen according to customers' request.
Luoyang Dahua is a high-tech enterprise which has been engaged in the research and development, production, manufacturing and sales of mechanical equipment for more than 40 years. Since its establishment, the company has been focused on the production of various crushing equipment, ball mill equipment, feeding and screening equipment, and dressing equipment. Adhere to the principle of "customer first", Luoyang Dahua creates high-end, excellent, high-quality, green new generation processing equipment for each user. If you want to know more, please visit Luoyang Dahua website for online consultation

!