Advantages of 100 TPH Dry Sand and Aggregate Production Line
author:dahua2 time:2022-03-04
Sand and aggregate production line with an output of 100 tons per hour, daily operation: 20h. Related configuration: jaw crusher, circular vibrating screen, impact crusher, cone crusher, sand making machine, sand washing machine, belt conveyor and other equipment. Processing materials: bluestone, basalt, quartz stone, river pebbles, pebbles, etc.
The main advantage of the sand and aggregate production line is to simplify the production process. It is named after the traditional three-stage and four-stage crushing is simplified into two-stage crushing. Such a design scheme can not only reduce the host equipment, but also reduce the crusher. The feeding belt conveyor between the equipment and the power consumption and wear parts loss during the operation of these equipment.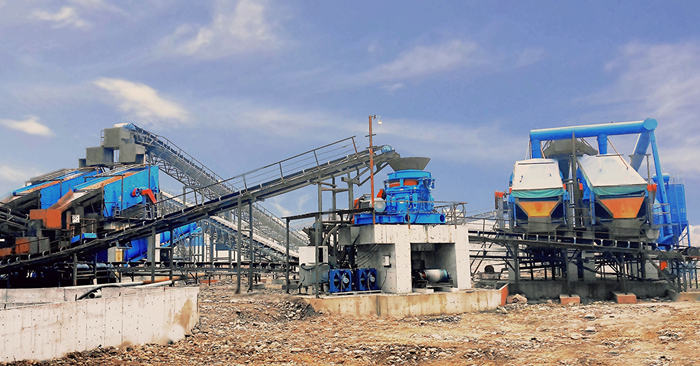 1. Good sealing effect
During the whole sand making process, its dust is very small. Good sealing performance. The dust removal effect fully meets the national dust emission standard.
2. Meet different needs
The sand making production line meets the increasing requirements of customers for the quality of construction sand. According to different process requirements, various types of equipment are combined to meet the different process requirements of customers and bring considerable economic benefits to customers.
3. Big profit
The whole production loss is small, and the profit is greatly increased by 15%-25%, so that higher economic benefits can be obtained.
4. High degree of automation
The sand making production line can achieve high degree of automation, low operating cost, high crushing rate, energy saving, large output, less pollution and easy maintenance.