Advantages of Crawler Mobile Crushers
author:dahua2 time:2022-05-11
The crawler mobile crusher is suitable for processing hundreds of kinds of materials such as construction waste, granite, cobblestone, limestone, etc. in the open field. It is a centralized processing equipment that integrates feeding, transportation, crushing and screening. In the process of choosing a crawler mobile crushing station, we need to know what are the advantages and disadvantages of mobile crusher equipment?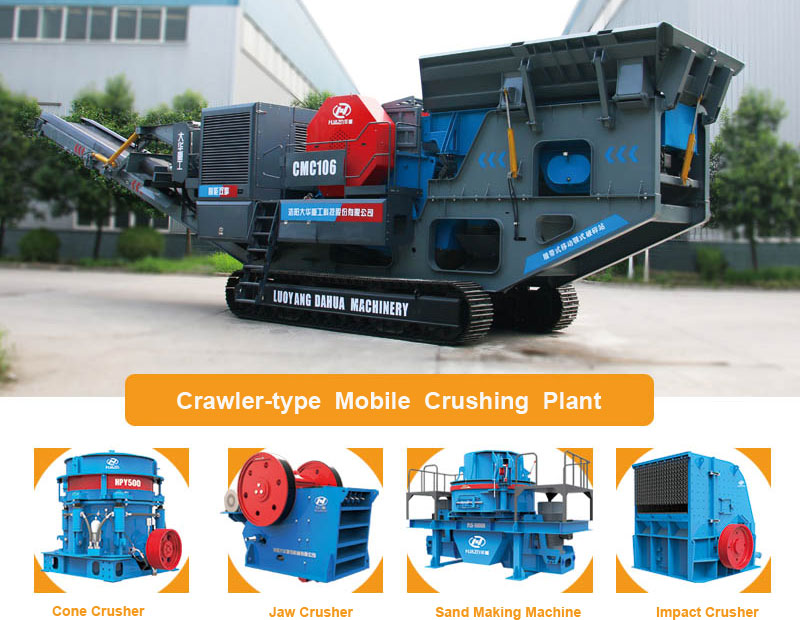 The structure of the crawler mobile crusher mainly includes the frame, the feeding part, the crushing part, the screening part, the transportation part, the iron removal part, the power part and so on.
1. First, the feeder feeds the rough stone into the crushing equipment evenly and continuously.
2. Crusher with different performance is used on the crawler mobile station. Common crusher types include jaw crusher, impact crusher, impact sand maker, cone crusher, hammer crusher, etc.
3. The screening part mainly uses linear vibrating screen and circular vibrating screen, which is responsible for distinguishing materials of different sizes.
4. The belt conveyor is used in the transportation part. The belt conveyor on the mobile crusher can be folded and unfolded.
5. The iron removal part depends on the type of material to be processed. It is mainly used to prevent the ferromagnetic material mixed in the material from scratching the belt and damaging the crusher.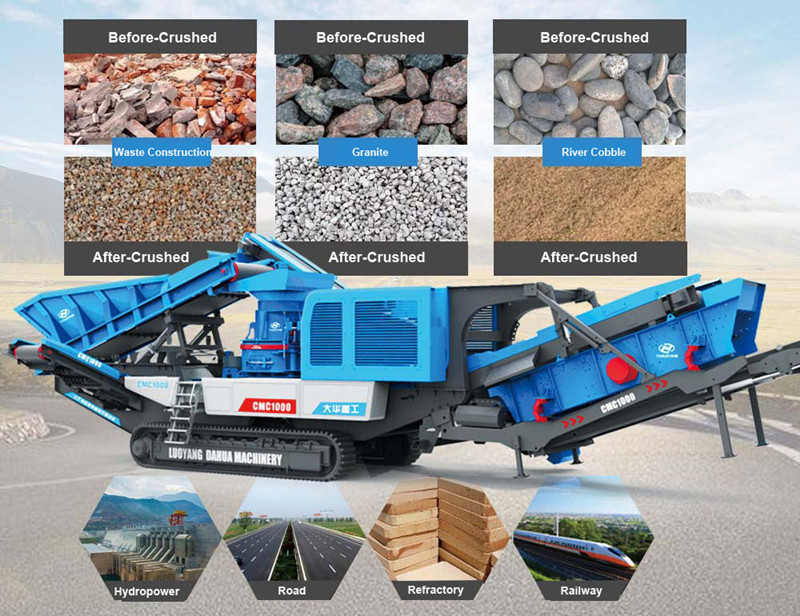 The advantages of crawler mobile crusher:
1. The crawler-type mobile crusher has a complete set of production line equipment installed on the frame. It does not need to be installed on site, and it can be used with electricity.
2. Compared with the fixed crusher, the floor area during operation is compressed, and it can be used directly on the platform of the quarry, or in the middle of the construction waste site.
3. The steps of raw material transportation are omitted. The mined materials are directly delivered to the silo of the equipment by excavators or other transport vehicles. After crushing, the qualified raw ore is directly pulled away without arranging storage.
4. The production speed is fast, no civil construction or workshop is required, which saves a lot of construction time.
5. The crawler-type mobile crusher can be used for both oil and electricity. In places where there is no electricity in the field, diesel can be used to generate electricity without delaying work.
6. The worker's pressure is small, two people can operate a production line, one person is responsible for feeding, and the other is responsible for loading.