Advantages of Huazn Silica Sand Making Production Line
author:dahua2 time:2022-01-14
Silica sand making production line equipment mainly consists of jaw crusher, impact crusher, sand making machine, sand washing machine, vibrating screen and feeder. Jaw crusher: coarse crushing, feeding particle size: ≤1500mm, production capacity: 1-2200t/h. Impact crusher: medium crushing. Feed particle size: ≤800mm, production capacity: 30-800t/h. Sand making machine: fine crushing, feed particle size: ≤60mm, production capacity: 12-360t/h. Sand washing machine: cleaning, processing capacity: 15-200t/h. Vibrating screening machine: screening, feeding particle size: ≤400mm, processing capacity: 8-800m³/h.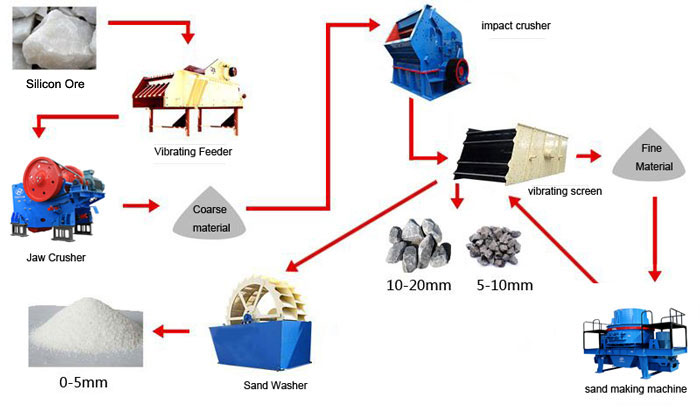 Advantages of Huazn silica sand production line:
1. Rigorous layout and low production cost
The whole silica sand production line has a reasonable design and strict spatial cross layout, which makes it occupy a small area and reduces the investment in operating costs;
2. Reasonable gradation of sand and gravel, high quality of finished sand
The sand and gravel materials processed by the quartz stone sand production line have uniform particle size and reasonable gradation, which fully conforms to the construction sand standard, and the economic use value of the sand material is very high;
3. High degree of automation and easy operation
The whole production line is equipped with advanced electronic control operating system, which ensures the smooth discharge of the whole process, reliable operation, convenient operation, high output and energy saving.
Huazn can customize the silica sand production line for you according to your requirements, and recommend suitable sand production line equipment for you according to your investment