Process Flow of Silica Sand Production Line
author:dahua2 time:2022-01-13
Henan Dahua equipment configuration for the silica sand production line mainly consists of crushing equipment, feeding equipment, sand making equipment and so on.
The crushing equipment generally uses jaw crusher for rough crushing, cone crusher or impact crusher for secondary crushing, the feeding equipment is generally vibrating feeder, and the sand making equipment generally includes a silica sand making machine, which can be customized according to the actual needs of users. Equipped with sand washing machine. Finally, the entire production line can be installed and put into operation after being equipped with some auxiliary equipment such as conveyors and screening machines. The equipment configuration of the entire silica sand production line is reasonable, and the specific quantity and model should be equipped according to the actual production capacity of the user.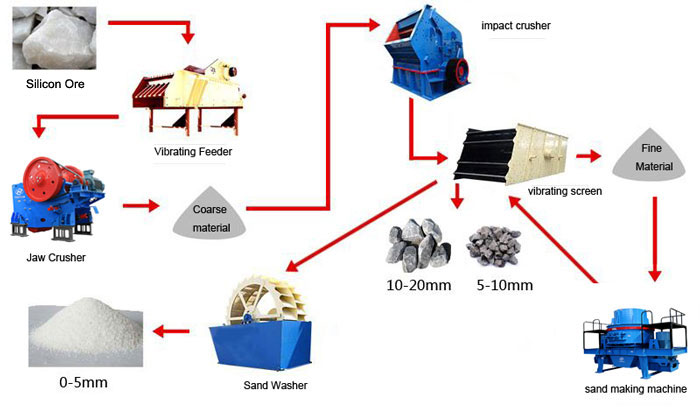 Process flow of silica sand production line
1. Crushing: Large pieces of silicon ore are initially crushed by jaw crusher, and then, the produced coarse material is transported by belt conveyor to cone crusher for secondary crushing;
2. Screening and sand making: the finely crushed silica enters the vibrating screen to screen out two kinds of stones, and the materials that meet the feeding particle size of the sand making machine are put into the sand making machine, and the finished sand is made after being cleaned by the sand washing machine;
3. Re-crushing: The unqualified silica sand is continuously crushed by the system until the finished material is produced, and the finished material needs to be dried by a dryer or naturally dried.
Dahua can customize the silica sand production line for you according to your requirements, and recommend suitable sand production line equipment for you according to your investment