Advantages of Mobile Crushing Station for Treatment Construction Waste
author:dahua2 time:2022-01-24
The construction waste recycling plant crawler mobile crushing station uses a hydraulic system to drive the crawler, so as to achieve smooth running and adapt to a variety of complex job site conditions. It is widely used in mining, engineering construction, earth and stone engineering, road construction, urban infrastructure and cement concrete, construction waste recycling and other crushing operations.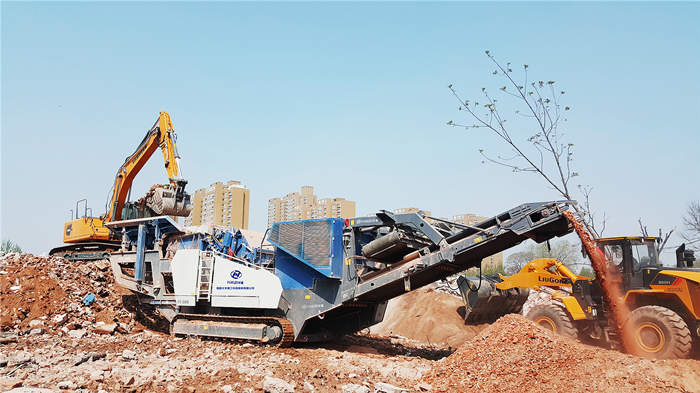 1. Strong mobility: flexible and free transition of operations
Integrated unit design, no need for on-site infrastructure, free transition, small size of equipment, easy to deal with narrow working conditions, high strength of crawler chassis, good passability.
2. Save money: intelligent operation is safe and reliable
PLC control system centralized control, remote operation of equipment, safer and more stable on-site operation, intelligent adjustment, less impurities in finished materials, and improved utilization rate
3. Environmental protection and energy saving: green and environmental protection for both oil and electricity
Brand motor, stable and reliable power source, equipped with low temperature defense device, no fear of power failure and low temperature
4. Excellent structure: professional manufacturers ingenious casting
From design to material selection and processing, we are meticulous. The internal structure of the equipment is excellent. The all-steel ship-shaped crawler chassis is designed with high strength and durability. The hybrid function of oil and electricity saves energy and fuel.
Huazn provides construction waste recycling solutions and technical support for customers, and can also design non-standard supporting parts according to the actual installation conditions of customers.