Case Configuration Analysis of River Pebble Sand Making Plant
author:dahua2 time:2022-03-07
River pebble is a kind of cobble-shaped stone, which is formed by the impact of mountain torrents and transported by running water, so the surface is very smooth, and it has the advantages of non-toxic, tasteless, non-discoloring, bright color and hard quality. It is an ideal raw material for construction and building materials. To crush and process river pebble, a complete set of river pebble and gravel production line equipment is required, and the price of a complete set of river pebble and gravel process is determined by the specific configuration.
Case configuration analysis of river pebble sand making plant:
Case Location: China
Design output: 200t/h
Core configuration equipment: 1 set of DHKS750×1060 jaw crusher, 2 sets of HPY300 cone crusher, 1 set of sand making machine, 1 set of DXS sand washing machine, auxiliary equipment.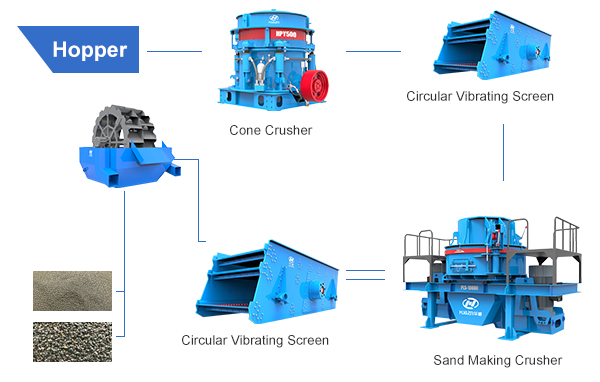 Process characteristics: The whole production process is close to the raw material, the overall operation is smooth, and the cost is saved. In order to improve the taste of the finished product, a sand washing machine is added. The whole river pepple sand production line is equipped with a perfect dust removal device, which greatly reduces dust pollution and integrates the level of automation. , saving more labor management costs.

Huazn is an old manufacturer with 60 years of R&D and production of mining machines. It has a better understanding of user needs and market dynamics. The equipment produced is of reliable quality and advanced technology. It is a good choice for users. It also provides free design process, technical personnel on-site guidance for installation, and provides users with comprehensive pre-sales and after-sales services. Huazn welcomes you to visit.