Choosing the Right Crushers for Crushing Limstone
author:dahua2 time:2021-10-26
The impact crusher is a new type of high-efficiency crushing equipment, instead of the traditional old-fashioned crusher. It adopts new general crushing technology, has an amazing crushing effect on limestone materials, and effectively realizes the new process requirements of more crushing and less grinding. It becomes a kind of favorite equipment by the majority of users. The advantages of impact crusher for crushing limestone are as follows:
1. In terms of finished product: The impact crusher improves the height of the crushing cavity through the improvement of the feed inlet technology, so that the adaptable hardness of the material is enhanced, and the limestone powder is effectively reduced; the gap between the impact plate and the hammer is easy to adjust, and it is more effective for controlling the discharging particle size, the shape of the finished limestone particles is good and excellent.
2. In terms of crushing limestone materials: the equipment itself has the advantage of small size, simple and compact structure, more convenient maintenance, strong machine rigidity, rotor with large moment of inertia, and keyless connection to ensure that the equipment is in limestone crushing work , The operation is more economical and reliable.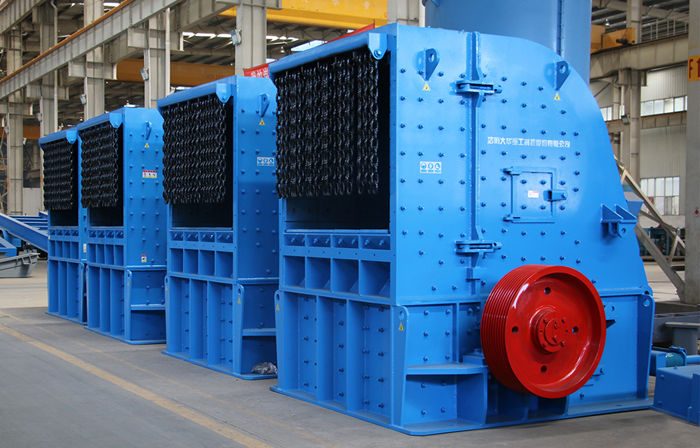 3. In terms of production efficiency: the equipment adopts impact-resistant, more wear-resistant high-end plate hammer, which has a large impact force. In addition, it has the characteristics of complete crushing functions, high productivity, and reduces the wear rate between parts. Cooperating with the middle, the overall benefit is higher.
4. Energy-saving and environmental protection: When the impact crusher equipment is used for limestone material crusher, it can crush the materials on site at one time, avoiding the intermediate link of the materials being far away from the site and then crushing, which can effectively reduce the production and operation costs and reduce the re-crushing Broken materials pollute the environment, making it more environmentally friendly and energy-saving.