Configuration Scheme of 300 TPH Limestone Crushing Plant
author:dahua2 time:2021-12-31
Limestone, common crushing raw materials in sand and gravel industry, after processing by stone crushing production line , it is processed into different specifications of sand and gravel materials, used in different industries. We take the common 300 tons per hour limestone crushing production line as an example to introduce the relevant configuration scheme to you.
Detailed scheme for equipment configuration of 300t/h limestone production line.
The limestone crushing production line configuration we introduce to you is a very cost-effective solution, and the processing flow is very simple, the work efficiency is high, and the material output is also very good. It is a recognized crushed stone production line configuration solution in China.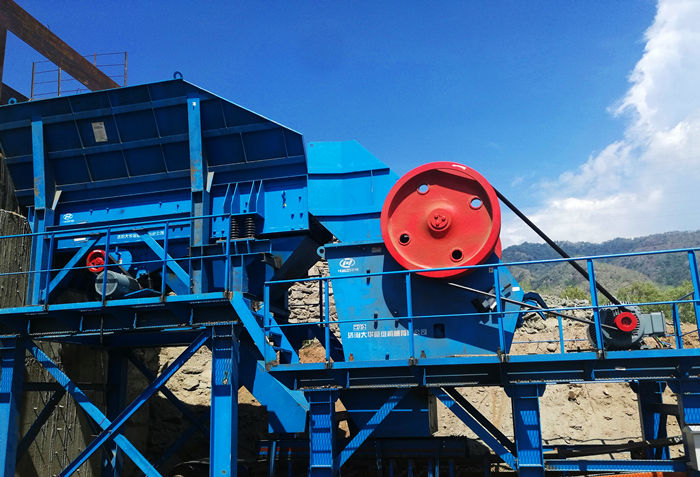 Processing material: Limestone
Production capacity: 250-300T/H
Discharge specifications: 0-5mm, 5-10mm, 10-20mm, 20-30mm
Equipment configuration: vibrating feeder, jaw crusher, single-cylinder hydraulic cone crusher (multi-cylinder hydraulic cone crusher, impact crusher), circular vibrating screen
Processing flow: The raw materials are collected and piled by the muck truck and transferred into the silo with a loader. The materials are evenly fed to the jaw crusher through the vibrating feeder for coarse crushing, and the coarsely crushed materials enter the cone crusher through the transfer silo and are crushed, and then is transported to the circular vibrating screen. According to the user's needs, the finished materials are output through the screening of the vibrating screen.
The above is to introduce you to the configuration scheme of the 300t/h limestone production line. This configuration scheme has been welcomed by many users. Most limestone processing plant uses this configuration.According to the different needs of customers, there are many more schemes for the limestone crushing production line. You can consult our customer service online to configure the best scheme and quotation for you.