Crushing Equipment for Pebble Sand Making Production Line
author:dahua2 time:2022-07-19
Pebbles are small in size, distributed in sedimentary shape, and large in volume. Therefore, from a general point of view, the pebble sand production process must go through three stages of coarse crushing, medium and fine crushing, and sand making. The main crushing equipment used are jaw crusher, cone crusher and sand making machine.
Jaw crusher for primary crushing
Jaw crusher has a strong crushing ability and is used in the first stage of crushing, and it is also an important part of the production line to crush hard materials such as pebbles with large diameters.
JC series jaw crusher produced by Dahua has a large crushing ratio and high output, and has many unique designs. The deep V-shaped crushing cavity allows the material to enter the crushing cavity without hindrance and improves the feeding capacity. The machine is small in size and saves working space; the use of bolted racks avoids the risk of stress concentration and improves the convenience of transportation.
Cone crusher for medium and fine crushing
Cone crusher can be used for further crushing of various hard materials, such as cobblestone, granite, basalt and other hard and commonly used sand making raw materials. Cone crusher has good wear resistance and ideal grain shape. Taking the commonly used hydraulic cone crusher as an example, it can be divided into two types: single-cylinder and multi-cylinder.
GPY series single cylinder hydraulic cone crusher
GPY series single-cylinder hydraulic cone crusher of Dahua production line is an ideal fine crushing equipment. It has the advantages of low operating cost, high performance, constant feeding capacity, large production volume, high yield and long service life of the liner.
HPY Multi-Cylinder Hydraulic Cone Crusher
HPY multi-cylinder hydraulic cone crusher produced by Dahua adopts the design of laminated crushing cavity, and the product has uniform particle size, cubic shape and low energy consumption.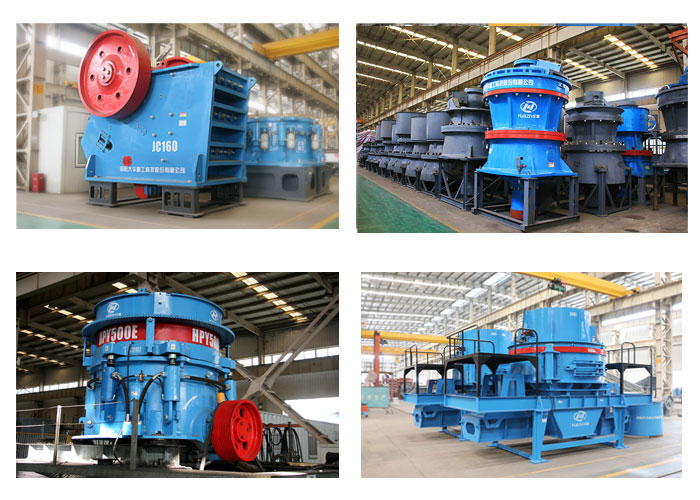 Impact sand making machine for sand making
Impact sand making machine is a type of sand making machine that is widely used at present. The impact sand making machine adopts the crushing principle of stone-on-stone and stone-on-iron, with high production efficiency, good wear resistance of internal wearing parts, durability and low maintenance cost.
PLS series impact sand making machine produced by Dahua integrates various crushing modes and is the core equipment of the sand making industry. The "center feed" production mode enables higher crushing efficiency and larger crushing ratio.
The above is the main crushing equipment for building a cobblestone sand production line. In addition, the production line should be equipped with vibrating screens, feeders, belt conveyors, etc., which models are configured, but also need customers according to production capacity, site conditions, finished product size and other requirements. Reasonable configuration, generally speaking, large-scale production lines pay attention to economy, and small-scale production lines minimize production processes. Of course, the design of the cobblestone sand production line should also follow a series of specifications, involving many aspects such as site selection, building structure, water supply and drainage, etc.