Equipment Configuration of Silica Processing Production Line
author:dahua2 time:2022-03-26
Silica is a high-hardness rock. The rough processing of silica needs to go through a series of technological processes such as feeding, crushing, sand making/grinding, and screening. Equipped with a sand making machine, it needs to be equipped with a pulverizer for grinding.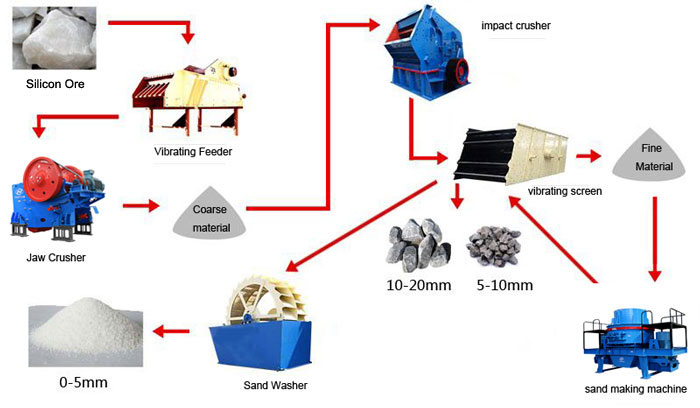 1. Jaw crusher + cone crusher
The classic combination method of silica crushing stage equipment, as a coarse crushing equipment, the jaw crusher has a strong crushing ability, can take all soft and hard materials, the structure is simple and easy to operate, the jaw plate is made of high manganese steel wear-resistant material, which is more sturdy and durable.
Hydraulic cone crusher is a medium and fine crushing equipment for silica. The hydraulic cylinder realizes the functions of crushing, cavity cleaning, iron protection, automatic lubrication, etc. The principle of lamination and crushing is that the finished product is cubic in shape, with less needle-like content and better quality. Single-cylinder, multi-cylinder, full hydraulic, composite and other cavity types are available to meet your different production needs.
The silica sand making equipment is installed after cone crusher. At present, the new and advanced model is the PLS sand making machine, with deep cavity impeller design, large throughput, high operating efficiency, strong sealing, more green production, and the finished product is round in shape and contains Small amount of powder produces high-quality quartz sand.
3. Pulverizer
Whether silica is used to make sand or grind powder, its value is very high. A Raymond mill is installed after cone crusher to make silica powder. Raymond mill has high production efficiency, low energy consumption, and the body is sealed. The production process is environmentally friendly and pollution-free. The fineness of the grinding powder can be adjusted between 80-800 meshes, and the applicability is more flexible and extensive.
Silica can be used to make sand or to grind powder. The equipment used for different production needs is different, so there is no exact value for the silica processing equipment price. You can get the quotation of Huazn manufacturer through free online consultation.