How to choose Impact Crusher and Hammer Crusher? What's the Difference between Them? (Part 2)
author:dahua time:2020-04-27
Today, we continue to discuss the difference between impact crusher and hammer crusher.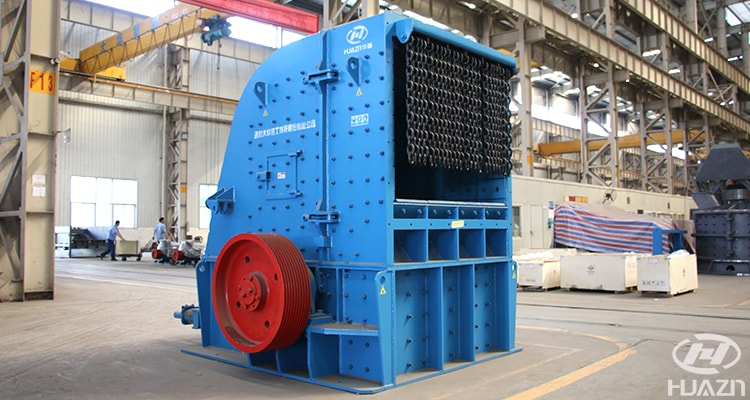 5. Discharging particle size adjustment device
The hammer crusher can only adjust the discharge size by changing the bottom sieve plate.
Impact crusher can be adjusted by a variety of ways, such as adjusting the rotor speed, adjusting the clearance between impact plate and hammer (top bolt adjusting device), etc., the European impact crusher by adding or reducing gasket in the bottom, to adjust the distance between the third impact plate and hammer.
6. Blocking phenomenon
Impact crusher is not easy to occur plugging material phenomenon, one is the heating device, can be configured to prevent materials for sticky congestion, the other is that there is no sieve grate at the bottom of impact crusher, the product size is determined by the gap between impact plate and plate hammer. Therefore, when dealing with materials with too much water content, it can avoid the phenomenon of blocking grate when crushing wet materials.
The hammer crusher is equipped with a bottom sieve plate, increasing the possibility of blockage.
7. Crushing ratio and finished product grain type
The crushing ratio of impact crusher can reach above 50, the finished products shape is good. Under the impact effect, the crushed material is often broken along its fragile layer. This selective crushing method has uniform discharge particle size and cubic shape, with low fine powder and dust content.
The crushing ratio of hammer crusher is generally 10-25, and the height can reach 50. The needle flake content of product is more, the powder content is higher.
8. Scope of application
Impact crusher: it is suitable for handling various coarse, medium and fine materials (granite, limestone, concrete, etc.) with side length of no more than 500mm and compressive strength of no more than 350 mpa. It is widely used in highway construction, water conservancy engineering and construction gravel processing and other fields. It is an ideal processing equipment for aggregate.
Hammer crusher: mainly used in cement, chemical industry, electric power, metallurgy and other industrial fields for the medium hardness of materials, such as limestone, gypsum, brick, slag, coal gangue, salt, chalk and other materials. It can directly crush materials with large size of 600-1800 mm to 25 mm or less.