How to solve the Abrasion Problem of Jaw Crusher?
author:dahua time:2018-05-07
The working parts of jaw crusher are two pieces of jaw plates. One is fixed jaw plate that installed vertical to the front wall of machine body, the other is movable jaw plate, which is tilt, and forming the crushing cavity together with the fixed jaw plate. The movable jaw plate does the periodic reciprocating motion to the fixed jaw plate, sometimes it's separate, and sometimes it's close. When these two plates separate, the materials fall into the crushing cavity, when they close each other, the materials between the plates are crushed by the force of squeezing, bending and splitting.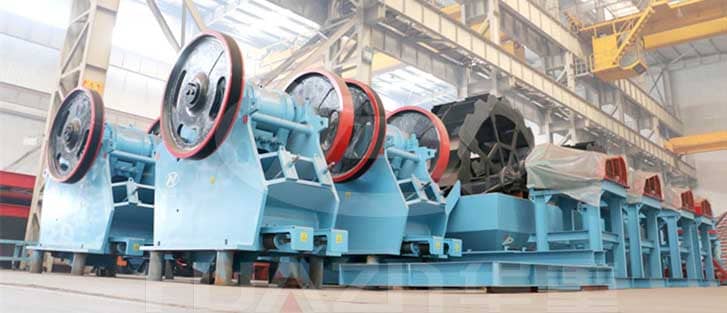 To solve the abrasion problem of jaw crusher, we should firstly understand the abrasion reason. Generally speaking, rolling contact will cause abrasion, and the sliding contact also can result in fatigue wear, such as the two rolling bodies generate plastic deformation casing by shearing stress. For different kinds of abrasion, we need to do case-by-case. Normally, according to the machine texture and the roughness of linear surface, we can change the hardness through heat treatment to avoid the abrasion brought by rolling contact.
Luoyang Dahua can produce various kinds of crushing machine, such as jaw crusher, impact crusher, cone crusher, sand making machine and so on. The company has a strong technology team, powerful financial strength, and a professional service team. Your demand is our impetus. Welcome old and new customer contact us: [email protected]