ISP Strong Fine Impact Crusher with Sand Formation Rate above 30%
author:dahua1 time:2019-08-29
Mainly for crushing hard rock, ISP Series Impact Crusher is a new designed and developed machine with high efficiency. It is mainly used in secondary, tertiary and fine crushing. ISP impact crusher also has certain function of shaping the products and making sand. It is widely used to process sand and aggregate in the field of construction for water and electricity, highway, city construction.
Features
1. There are two different adjustable crushing cavities of ISP impact crusher, which increases the efficiency.
2. The anti-wear alloy hammer and impact plate increase the utilization and reduce the cost.
3. There are special symmetric check-doors at both sides of the frame, which are convenient to change the hammer and impact plate.
4. The discharge opening is adjustable. The final product size can be controlled. The shape of the product shows like a cube type.
5. ISP impact crusher has smart structure, easy to maintain, energy-saving.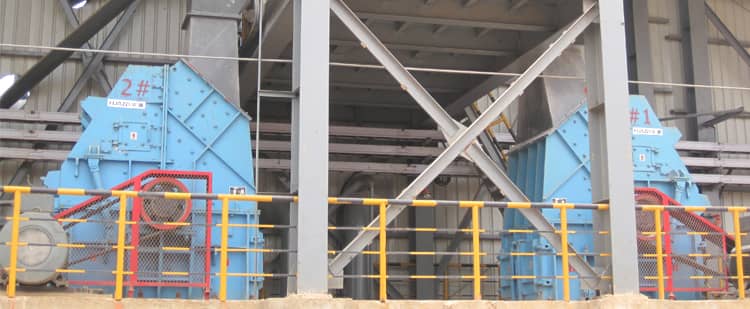 Main Advantages
1. It is more effective to process materials with large moisture content and effectively prevent material blockage.
When the moisture content of the treated material is too large, the feed chute and the counter plate of the impact crusher may be equipped with a heating device to prevent the material from sticking. The impact crusher does not need to be equipped with a bottom sieve plate to prevent clogging.
2. The applicable material hardness is more extensive.
The hammer of the impact crusher is fixed to the rotor by a mechanical clamping structure, and has a large moment of inertia when it rotates with the rotor. Compared with the hammer crusher (the hammer head is in a suspended state), the rotor of the impact crusher has greater momentum, and it is suitable for crushing harder materials, and at the same time, the energy consumption is lower.
3. Convenient and flexible adjustment of discharge particle size, wide adjustment range.
The impact crusher can adjust the discharge particle size in various ways, such as adjusting the rotor speed, adjusting the clearance between the counter plate and the grinding chamber. The gap adjustment can be adjusted mechanically or hydraulically, and the hydraulic adjustment system can be used to easily adjust the gap through the local operation button or the travel control system.
4. Wearing parts wear small, high metal utilization rate.
The wear of the counter-rock breaker is only present on the side facing the material. When the rotor speed is normal, the feed will fall to the surface of the hammer (the striking surface), and the back and sides of the hammer will not be worn. Even the wear on the side of the material is scarce. And the bottom grinding rod is also easy to replace. The metal utilization rate of the impact crusher plate hammer can be as high as 45%-48%.