Introduction of Bucket-wheel Type Sand Washer
author:dahua time:2020-03-05
Bucket wheel sand washer is a common used sand washing machine, today we will introduce the features, working principle and application of bucket wheel sand washer. Bucket wheel sand washer adopts advanced technology, combined with the actual situation of stone and sand industry to develop efficient sand washing equipment, with high cleanliness, reasonable structure, large output and less sand loss in sand washing process. Especially, the transmission part is isolated from water and sand, so the failure rate of bucket wheel sand washer is greatly reduced, which is a new choice for upgrading domestic sand washing industry.
Bucket wheel sand washer
Bucket wheel sand washer is a kind of wheel bucket type washing equipment, can clean and separate the stone powder and soil. Its novel sealing structure, reliable transmission device ensure the effect of cleaning and dehydration, is a kind of efficient sand washing equipment used with sand making machine.
Features of bucket wheel sand washer
1. Bucket wheel sand washer has simple structure, stable performance, impeller drive bearing isolate with water, greatly avoid bearing damage caused by water, sand and pollutants.
3. The machine has almost no wearing parts except the screen.
4. Long service life, long-term no maintenance.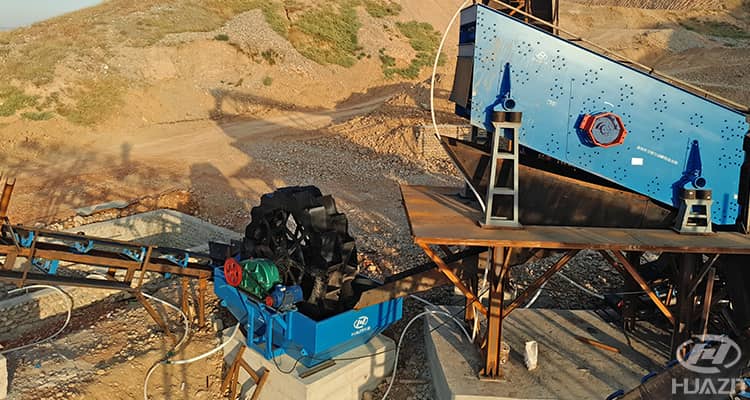 Working principle of bucket wheel sand washer
Materials are fed evenly from the feeding box. Fill the buddle with certain amount of water continuously. The driving unit drives the helical shaft run at the certain speed, which will force the materials to overturn and roll in the buddle and move towards the discharge end. The fine grains of materials and impurity will be drain out through the overflow weir, while the coarse grains will be discharged through the discharge outlet. In this way, materials can be washed, classified, purified and dehydrated.
Application of bucket wheel sand washer
Bucket wheel sand washer is widely applied in the field of gravel pit, mining, building materials, communication, chemical industry, water conservancy and hydropower. Bucket wheel sand washer can remove the impurities covering the surface of sand, but also destroying the water vapor layer covered with sand, in order to facilitate dehydration, play an efficient role in sand washing.
Luoyang Dahua established in 1958, has rich experience in R & D of stone crusher, sand making machine, sand washer and feeding & screening equipment. The products have obtained ISO and CE certification, and conduct strict factory testing. Welcome the customer contact us lydhchina@huazn.com to get more information and latest quotation.