Luoyang Dahua Cone Crusher Machinery
author:dahua time:2020-10-26
Loyang Dahua cone crusher adopts high strength casting-steel frame, alloy forging main shaft and high precision straight bevel gear driving structure, combined with multi-chambers selection and automation control system, which fulfills the performance and advantages. Cone crusher can be widely used in secondary and fine crushing work for all kinds of hard materials and rocks to meet customers' various needs for crushing. It has two types: standard type and short head type.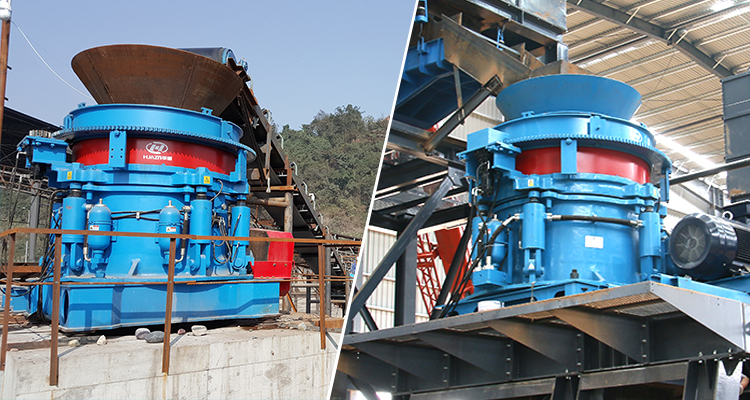 Model: standard type (B), short head type (D
Max. Feed Size: (B) 110-326 (mm); (D) 60-136(mm)
Application Fields: mining, metallurgy, construction material.
Applied Material: It is applied for fine and medium crushing of medium hardness aggregates.
Main Features of Dahua cone crusher
1. Equipped with two impact crushing cavities which can be adjusted.
2. The upper and lower frame of crusher can all be dismounted, transported and installed in ease.
3. The two sides of it are mounted with unique openings which can be used to change the hammer and impact rack.
4. The machine self is cube-shaped and the discharge size of materials can be preseted.
5. Easy operation and maintenance and high efficiency.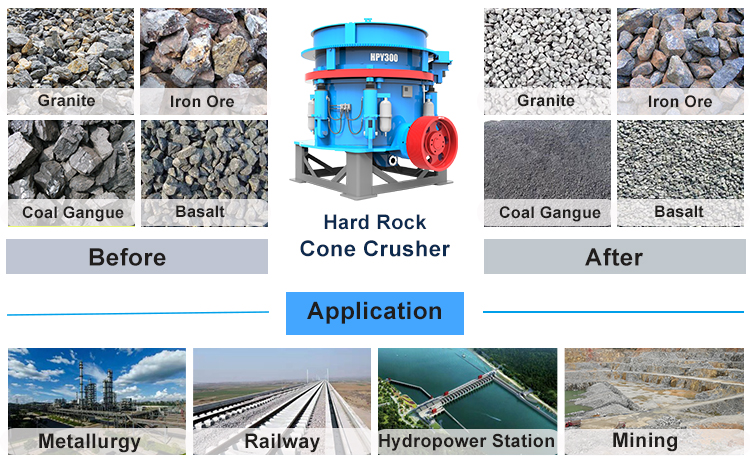 Working principle of Dahua cone crusher
When the multi-cylinder hydraulic cone crusher works, electric motor drive the belt pulley or the gear shaft to rotate, drive shaft and cone body make the eccentric shaft periodically oscillating and rotating around the center axis. After the material enter into the crushing chamber, they are continuously striking, grinding and squeezing under the interaction of eccentric shaft and concave until the material reach the required granularity, and then discharged from the lower outlet.
Luoyang Dahua is specialized in the production of jaw crusher, impact crusher, cone crusher, sand making machine and provide solutions for the gravel production line. The products are sold to France, Russia, Japan, Indonesia and other 20 countries, please contact us to get latest details.