Luoyang Dahua undertakes the Construction of Sand and Aggregates Production Line of Nam Ou River Cascade Hydropower Station in Laos
author:dahua time:2019-07-22
Luoyang Dahua undertakes the construction of sand and aggregates production line of Nam Ou River cascade hydropower station in Laos. Nam Ou river cascade hydropower station project is a national key project in Laos, which is invested and constructed by Power Construction Corporation of China in the form of BOT (construction-operation-transfer).This processing line, jointly undertaken by Luoyang Dahua and POWERCHINA, is the sixth stage of the seven cascade power stations planned by Nam Ou river hydropower station. This project is difficult to construct and has high technical requirements. The dam of the power station is a composite geomembrane rockfill dam with a maximum height of 88 meters, which is the highest dam of its kind in the world at present. More than 80% of the dam is filled with soft rock, which has stricter requirements on sand and stone aggregate processing.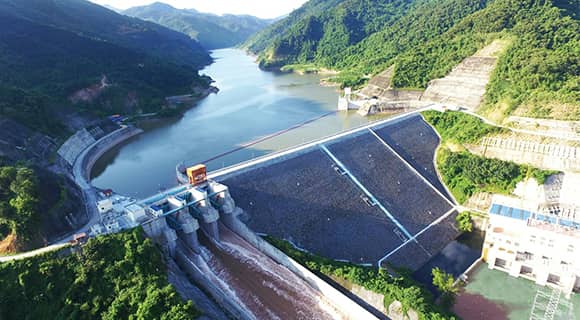 Pic. from Internet
After receiving the construction notice, all departments from Luoyang Dahua actively support the work of this project, mobilize the company power, gather the whole wisdom, striving to provide customers with efficient and stable sand and stone aggregate production line, to produce higher quality sand and stone aggregate,The system is mainly used to produce concrete sand aggregate and mining material in the material yard as the material source. Because of the special geographical location, our company adopts modular structure design, convenient and quick for installation, with short installation period and high efficiency, and covers a small area.
This production line is used for the granite crushing with the production capacity of 300 t/h. The main equipments are ZSW vibrating feeder, ASJ-E jaw crusher, GPY-S cone crusher, GPY fine cone crusher, PLS sand making machine, YK vibrating screen, XL sand washer, and modular steel structure, as well as the related PLC control system and belt conveyor.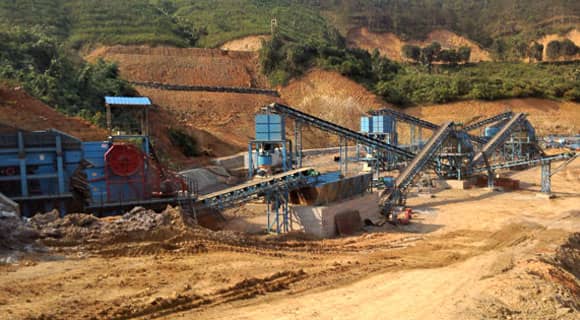 Process of sand and aggregates production line
Raw materials are fed into jaw crusher through vibrating feeder for primary crushing, the coarse crushed materials are sent to the medium cone crusher and fine cone crusher for secondary crushing. Large grains return to cone crusher for further crushing, the required grains are fed into sand making machine through vibrating screen, and finally get the clean sand by sand washer. There are four specifications of finished materials, 0-5mm,5-20mm, 20-40mm,40-80mm.
After decades of development, Luoyang Dahua has formed a long-term strategic partner with PowerChina, contracted to build hundreds of sand and stone aggregate processing systems, and won the unanimous recognition of customers. Luoyang Dahua will live up to the expectation and continue to provide customers with efficient, high-quality and high-yield crusher equipment and perfect solutions.