Performance Characteristics and Price of Mobile Crushing Plant
author:dahua2 time:2022-10-27
Mobile crushing plant
is suitable for crushing limestone, bluestone, cobblestone, granite, shale, marble, dolomite and so on. And it also has a good crushing effect on construction waste. Mobile sand crushing plant is divided into wheel type and crawler type, the former turning radius is small, the transition is more flexible; The latter with track walking, remote control operation is more advanced, each has its own characteristics. Users can choose according to the actual site needs.
Performance characteristics of mobile crushing plant
1. Integrated structure, more flexible transition
The integrated structure combination of mobile crushing plant, from crushing to screening transportation, one-stop completion, flexible movement, more convenient transition; Small area, can be directly move to the work site, reduce the cost of raw material transportation, cost saving, and more convenient.
2. Intelligent operation, energy saving
PLC centralized control system of mobile crushing plant, more intelligent operation, no need for operators to operate on site, reasonable motor selection, energy saving. Diesel engine can overcome inconvenience brought by power failure.
3. Environmental protection, safety production
Mobile crushing plant is intelligent and environmentally friendly, which can effectively suppress dust and noise, and make pollution nowhere to escape. It is a good choice for green sand and stone production line.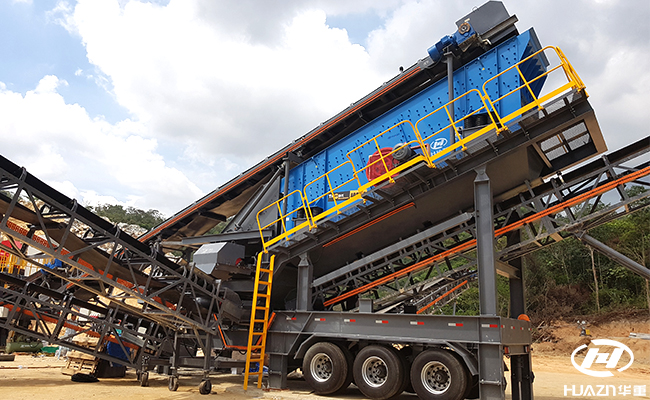 The price of mobile crushing plant
One of the most concerned topics is the price of mobile crushing plant. The crushing system of mobile crushing plant can freely choose jaw crusher, impact crusher, cone crusher, sand making machine and so on. The equipment varies in quality and price according to need. So what is the price of a specific mobile gravel crusher? It also needs to be judged according to different equipment configuration and selection.