Performance Characteristics of Large-capacity Gyratory Crusher
author:dahua2 time:2022-03-02
GC Series Gyratory Crusher is a new generation primary crushing and continuous operation equipment for the ultra-large mining and quarrying project by Huazn company.The processing capacity of the gyratory crusher is 2000-8880t/h. The machine adopts the alloy cast-steel heavy frame, alloy forging shaft and arc-shaped gear transmission, as well as hydraulic adjustment discharge opening, which is widely used in primary crushing for various of minerals and rocks such as mining, water and electricity, metallurgy, building and etc.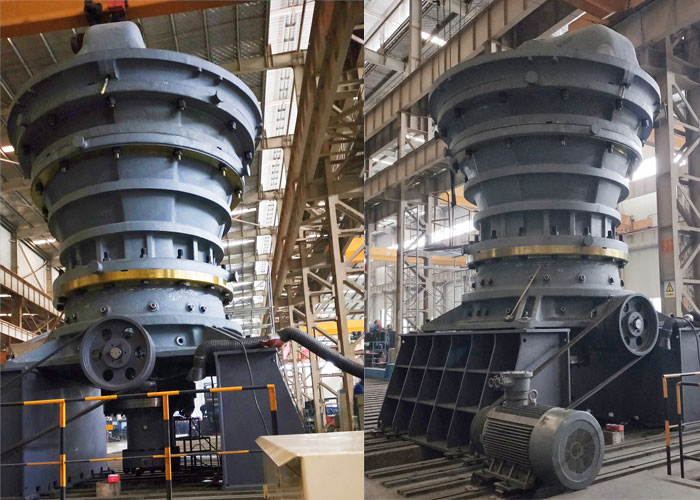 The performance characteristics of large-capacity gyratory crusher are as follows:
1. The special deep-cavity crushing chamber and longer feed opening designed, which make the feeding smoothly and realize the continuous crushing. GC series gyratory crusher has large throughput, high-efficiency crushing, big crushing ratio, superior product shape and easy maintenance, as well as less liner wear and low operation cost.
2. The main shaft can be easily adjusted by its positioning control system to make up for the liners wear so that controlling the product shape.
3. The balance cylinder system can prevent main shaft runout. This system can make the main shaft falling automatically under overloading, which avoid the main shaft runout impacting on the equipment when the large block of materials entered into the machine, to ensure the safe and stable running.
4. GC gyratory crusher equipped with pressure dust control system can effectively prevent dust from entering into the eccentricity device and transmission device of equipment, which can extend the service life of the bearings.
5. The high-strength extra-heavy frame, integral large main shaft assembly and high-performance bearings, which can ensure the service life of machine is more longer, the operation is more safe and reliable under kinds of bad working conditions.
As a powerful mining equipment enterprise integrating production and sales, Huazn is responsible for every piece of equipment we produce, and provides customers with technical services throughout the product life cycle and original parts supply services, so as to ensure that every customer has no worry in production.