Process Flow of Basalt Sand Production Line
author:dahua2 time:2022-03-01
Basalt is a good raw material for the production of "cast stone". "Cast stone" is a material obtained by melting, casting, crystallization and annealing basalt. It is harder and more wear-resistant than alloy steel, and more resistant to corrosion than lead and rubber. Basalt also acts as a "lubricant" in an advanced steel casting process, which can prolong the life of the cast film. At the same time, basalt can also be drawn into glass fiber, which is stronger than ordinary glass fiber cloth in alkali resistance and high temperature resistance. Among them, porous basalt, also known as pumice, has many pores and a hard texture. It can be mixed into concrete to reduce the weight of concrete. It is not only strong and durable, but also has the characteristics of sound insulation and heat insulation. It is good aggregate for lightweight concrete of a high-rise building.
The Mohs hardness of basalt reaches 5 to 7, and the content of SiO2 is 45% to 52%. Therefore, impact crushers are generally not used for basalt crushing, and more cone crushers are used for the second and third stages of medium and fine crushing operations.
The main equipment configuration of the basalt sand production line is vibrating feeder, jaw crusher, multi-cylinder hydraulic cone crusher, vertical shaft impact crusher (shaping machine), vibrating screen, etc.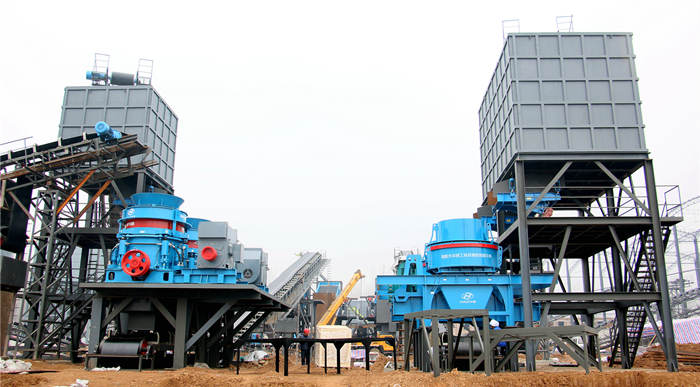 The process flow of the basalt sand production line is that the basalt raw material enters the jaw crusher through the vibrating feeder for coarse crushing, enters the multi-cylinder hydraulic cone crusher for secondary crushing through the belt conveyor, and is screened by the vibrating screen to 30-70% as the finished ballast for high-speed rail. Use; 0-18mm enters the shaping machine for shaping and crushing before screening, 0-5 is the fine sand, and 5-18mm sand can be used as high-quality highway fabric.
Advantages of equipment configuration of basalt sand production line: high efficiency, large output; low production cost; good grain shape and high quality of aggregate; the output of fine aggregate and fine aggregate can be adjusted according to demand; aggregate shaping and sand making can be convert.