Process Flow of 5,000,000 T/Y Sand and Aggregate Production Line
author:dahua2 time:2022-01-27
The sand and aggregate production line with an annual output of 5 million tons is a large-scale production line, and the production line configuration with an output of about 700 t/h is required. The 5,000,000 t/y sand and aggregate production line generally requires the main equipment of vibrating feeder, jaw crusher (coarse crushing), impact crusher or cone crusher (middle crushing), sand making machine, sand washing machine and vibrating screen. The specific process flow is: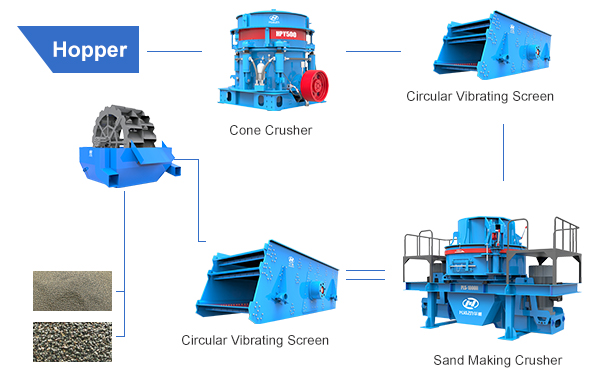 The mined natural stone is evenly and continuously sent to the coarse crusher (coarse jaw crusher) by the vibrating feeder for preliminary crushing, and the produced coarse material is conveyed by the belt conveyor to the impact crusher or cone crusher for further processing crushing; the middle crushed stones are screened by the vibrating screen to separate out two kinds of stones, the stones that meet the requirements are evenly sent to the sand making machine for sand making, and those that do not meet the requirements are returned to be crushed again; the qualified sand is sent to sand washing machine for cleaning, and the washed sand particles are sent to the finished product pile by the conveyor for packaging, and various sand materials that meet the requirements are produced.
The sand and aggregate production line process can be used for crushing and sand-making operations of various ores, slag, construction waste and other materials. It has a high degree of automation, low operating costs, energy saving, environmental protection, and simple operation. The produced machine-made sand has excellent grain shape and reasonable gradation, which conforms to the construction sand standard and can be used in construction, highway and other industries.