Process flow of Iron Ore Crushing Production Line
author:dahua2 time:2022-01-19
Huazn can produce ore crushing production line equipment and provide you with technical support. The ore crushing plant equipment usually consists of vibrating feeder, jaw crusher, hydraulic cone crusher, vibrating screen, belt conveyor and other equipment; suitable for Processing of non-ferrous metal minerals such as iron ore and gold ore; the designed output is generally 100-2000 tons/hour.
Iron ore crushing , according to the type and nature of the ore, can have a variety of different technological processes. Ore beneficiation plant generally use three-stage crushing processes of coarse crushing, medium crushing and fine crushing to crush iron ore. The jaw crusher is used for coarse crushing, and the cone crusher is used for medium and fine crushing. The coarsely crushed ore is then medium and finely crushed into a material size suitable for entering the ball mill.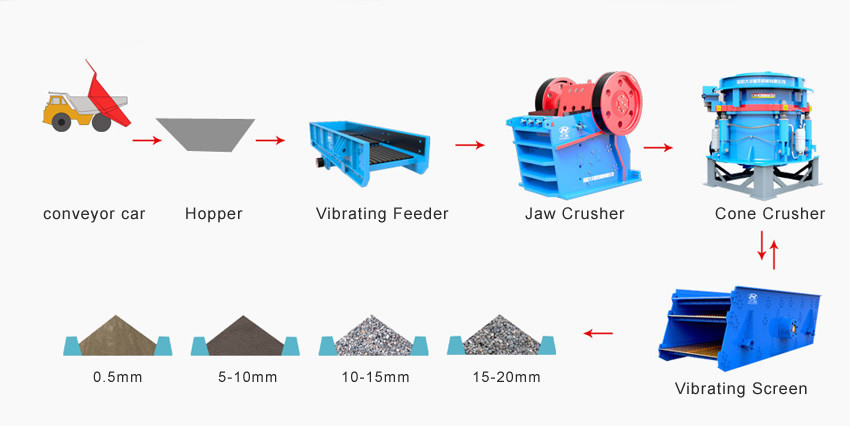 The iron ore is evenly sent to the jaw crusher by the vibrating feeder for coarse crushing, the coarsely crushed material is sent to the coarse crushing cone crusher by the belt conveyor for further crushing, and the crushed material is sent to the vibrating screen for further crushing. After screening, the materials that meet the particle size requirements of the finished products are transported to the finished product piles through the belt conveyor; the materials that do not meet the particle size requirements of the finished products are returned to the vibrating screen for medium or fine crushing and cone crushing to form a closed loop. The granularity of finished products can be combined and graded according to the needs of users.
The iron ore crushing production line has high degree of automation, high crushing rate, low operating cost, energy saving and environmental protection, and fine particle size. Huazn provides process solutions and technical support for customers, and can also design non-standard supporting parts according to the actual installation conditions of customers.