River Pebble Crushing Sand Production Line
author:dahua2 time:2021-10-21
River pebbles is high quality raw materials for sand maker production line, so the choice of crushing equipment is the key in the pebble crushing sand production line.This article is a detailed explanation at this issue.
Cobblestone is also river pebble. As a pure natural stone, it is a popular green building material because of its hard quality, good compression resistance, wear resistance and corrosion resistance. Cobblestone is hard and wear-resistant, which makes its processing relatively difficult, and the rigidity requirements of the river pebbles crushing processing equipment are relatively high. Jaw crushers are usually used for coarse crushing of pebbles, and impact crushers are commonly used for fine crushing.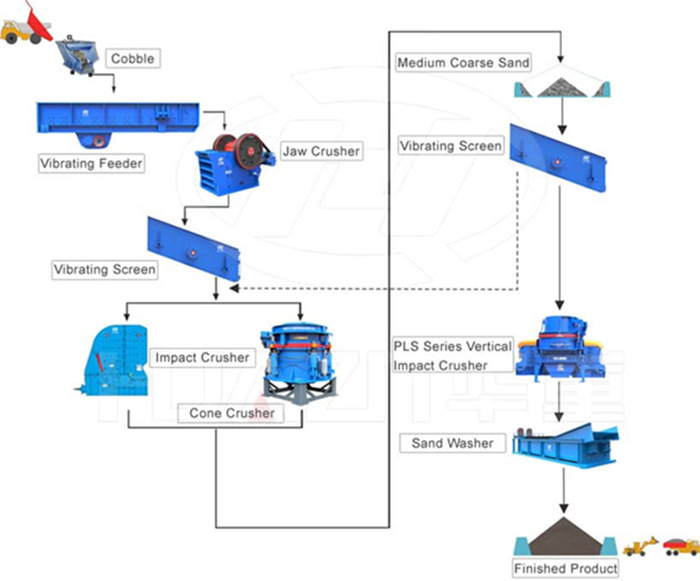 In addition, the cone crusher with improved structure design and application technology, low-cost investment and high-yield fine jaw crusher or pair-roll crusher, fine sand processing equipment, sand making machine, and mobile crushing of pebbles that can move at any time with the processing depth of raw materials Stations, etc. can be used to crush pebbles. We refer to the equipment used to process pebbles as a cobblestone crusher.
Generally speaking, a complete set of pebble crushing sand production line usually includes vibrating feeder, jaw crusher, impact crusher, cone crusher, river pebble sand making machine (VSI sand making machine, impact sand making machine), vibrating screen, sand washing machine, dust collector, etc.
As a professional manufacturer of crushing and screening equipment,China Luoyang Dahua Heavy Industry Science and Technology Co., Ltd. can provide reasonable equipment configuration solutions to ensure greater economic benefits.If you are interested in sand production line,you can have a chat online or send your detail need to our email: lydhcrusher@huazn.com