Spiral Classifier and Sand Washer, Which One is Better?
author:dahua time:2019-12-04
Spiral classifier and bucket wheel sand washer are two kinds of common used sand washer machine, by the use of water to finish the work of grading, washing, and cleaning for crushed small stone and sand. Which one is better? Here, I will introduce the difference between these two sand washers.
1. From working principle
Spiral classifier stirs the sand and stone mainly through the spiral blade, with the help of the principle that the proportion of solid particles is different and the precipitation rate in the liquid is different, the soil in the sand and stone are mixed with water and discharged from the flow port on the equipment, while the sand and stone are gradually screened under the action of the spiral blade and discharged from the discharge port.
Bucket wheel sand washer is driven by a triangular belt to reduce the speed of the reducer, the reducer gear after the slow rotation of the impeller, sand and stone and other raw materials are washed into the washing trough through high pressure water. The materials grind mutually under the tumbling of impeller, and then the impurities and small foreign bodies are discharging from the overflow port.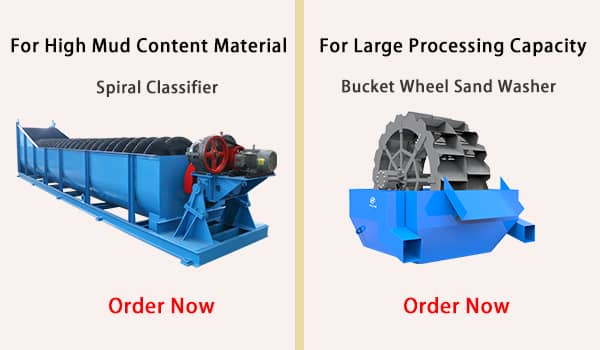 2. From production capacity
The production capacity of spiral classifier is fixed, which is suitable for the washing of materials with large mud content and high viscosity. While the production capacity of bucket wheel sand washer is adjustable, by changing the size of hopper to adjust the amount of material feeding, so as to adjust the production capacity. This kind of sand washer has simple structure, mainly used for the large processing capacity, with less fine sand loss.
3. From sealing performance
With the extension of the use time of the spiral classifier, the seals wear out and the tightness becomes worse, resulting in water damage to the bearing; The driving part of bucket wheel sand washer is separated by water and sand, which causes less sand loss and greatly reduces the equipment failure rate.
Luoyang Dahua, professional manufacturer of stone crusher, mill machine, sand washer, and vibrating feeder, etc. More than 30 yrs experience ensures high quality of the crusher, stable performance, low failure rate and thoughtful service. Welcome the customer to contact us: lydhchina@huazn.com.