The Advantages of PLS Vertical Shaft Impact Crusher
author:dahua2 time:2022-06-09
PLS vertical shaft impact crusher is a high-efficiency fine crusher for processing machine-made sand. It is a high-efficiency fine crusher with large input size and fine output. Dahua Heavy Industry has developed a history of vertical impact crushers for decades. , The subversive change brought about by the crushing and processing of various rocks and minerals, it has the characteristics of low cost, strong adaptability, large throughput, excellent quality of finished products, and wide application.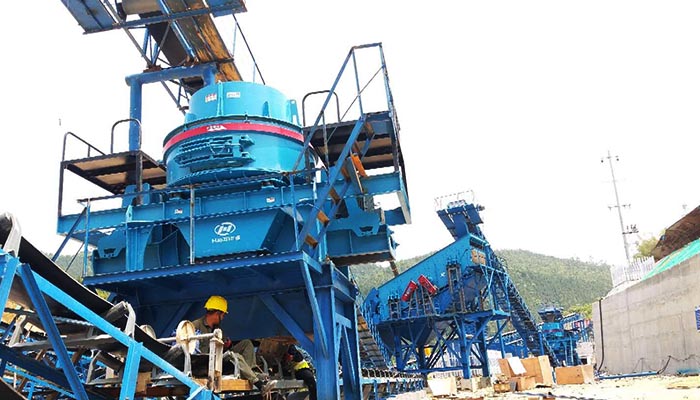 Advantages of PLS Vertical ​​Shaft Impact Crusher:
1. Novel and unique structure, stable operation, simple structure, easy operation and maintenance, convenient installation and low cost.
2. Low energy consumption, high output, large crushing ratio, and the functions of fine crushing and coarse grinding.
3. PLS vsi crusher is small in size, easy to operate, easy to install and maintain. High efficiency and energy saving, high crushing efficiency. Large processing capacity and high output-----50-500 tons/hour, compared with sand making equipment with the same power, the output is increased by 35%. And the performance is relatively stable.
4. It has the function of shaping, the product is cubic, the bulk density is large, the ability to pass non-crushing materials is strong, and it is less affected by the moisture of the material, and the moisture content can reach 8%.The finished product has a good grain shape - it is a six-sided polygonal body, and the mix is reasonable, especially for machine-made sand and stone shaping. It has been proved by many customers that the comprehensive effect of sand making and shaping is 30% higher than that of other equipment with the same power.
5. During the production process, the stone can form a protective bottom layer, the body has no wear and is durable, and it can crush medium-hard and extra-hard materials (such as corundum, sintered bauxite, etc.).
6. A small number of wearing parts are made of extra-hard wear-resistant materials, which are small in size, light in weight, and easy to replace accessories. The product is cubic, with low iron pollution and low consumption of wearing parts. The impact angle, the most reasonable material impact speed design and the friction of wear-resistant parts are less, which is 30% lower than the operating cost of traditional equipment, which directly reduces the use cost of the impact crusher and greatly improves the profit margin of the machine.
7. Light weight, various installation methods, movable installation and other characteristics.
PLS vertical shaft impact crusher has a wide range of applications and has its presence in many fields. If you want to know more information and quotation about this equipment, please feel free to online customer service, Dahua Heavy Industry is at your service.