The Advantages of Vertical Impact Sand Making Machine for Processing Pebbles
author:dahua2 time:2022-01-10
The quality and hardness of cobblestone after sand making are relatively high, and the quality of artificial sand is good, which is more advantageous in infrastructure. Vertical shaft impact crusher is an important equipment for sand making. The vertical shaft impact crusher is a sand making machine for the processing and crushing of medium and hard materials. Due to the relatively high hardness of the cobblestone, the vertical shaft impact crusher is selected. What are the advantages of vertical impact sand making machine for processing pebbles?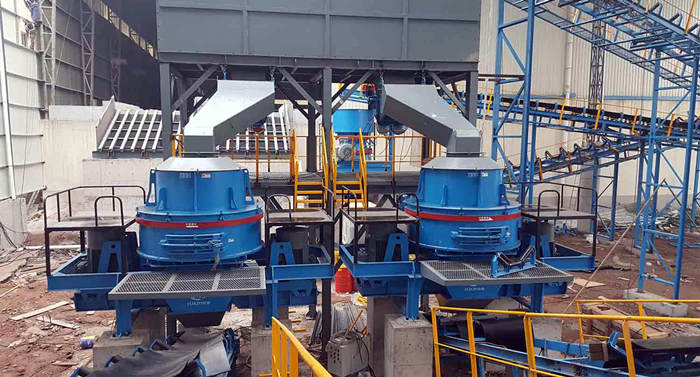 1. Scope of application
The new vertical shaft impact crusher optimizes the rotor structure, and the crushing cavity has a larger capacity. During the use process, the material is fully crushed by the working principle of stone and stone and iron. The rotor body is made of high-hardness and high-manganese steel, and it is easy to crush pebbles. .
2. High capacity
The vertical shaft impact crusher has advanced technology, mature technology in processing cobblestone, high production efficiency, good performance of wear-resistant parts, long service life, and the output is increased by more than 30% compared with other equivalent equipment.
3. Full grain
The vertical shaft impact crusher has uniform discharge, full particles, and discharge particle size between 0-5mm. It is a high-quality material used in construction, refractory, metallurgy, and cement.
4. Intelligent monitoring
Through PLC automatic control monitoring system, timely monitoring of feeding amount, current, oil temperature, spindle temperature vibration protection and other functions.