The Configuration Process of 300TPH Stone Crushing Production Line
author:dahua2 time:2022-05-23
Luoyang Dahua Heavy Industry Science and Technology Co., Ltd. is a producer of sand and gravel production lines. With the support of many users in the market, it has configured large-scale production lines for crushed-stone manufacturers at home and abroad. Today, I will introduce to you what equipment and the production process is needed for 300tph stone crushing production line.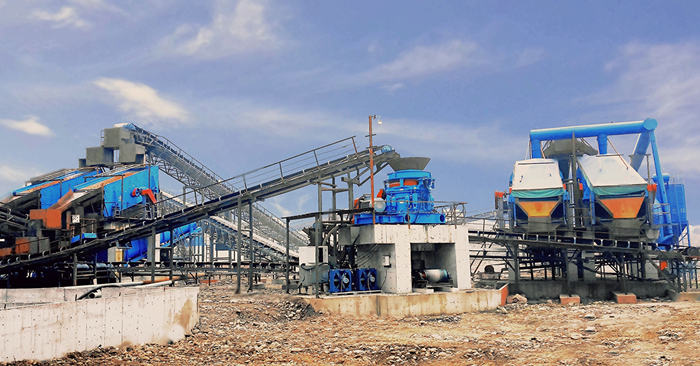 Equipment configuration plan: vibrating feeder, jaw crusher, cone crusher, sand making machine, vibrating screen, belt conveyor
1. One-stage crushing: The raw materials for stone processing enter the vibrating feeder through the raw material bin, and then the vibrating feeder evenly transports stone raw materials to the jaw crusher for simple coarse crushing;
2. Two-stage crushing: the raw materials after coarse crushing are transported into cone crusher through belt transportation for two-stage (medium and fine) crushing;
3. Sand making stage: the materials crushed by the cone crusher are crushed and shaped by the sand making machine;
3. Screening and grading: The processed stone is then screened by a vibrating screening system for finished products, and the cobblestone processing stone with a particle size that meets the standard is sent out by a belt conveyor;
4. Cyclic crushing: Qualified processing raw materials are the finished products we need, and unqualified processing raw materials will be returned to the crushing chamber for crushing, which can be recycled for many times until the finished product requirements are met.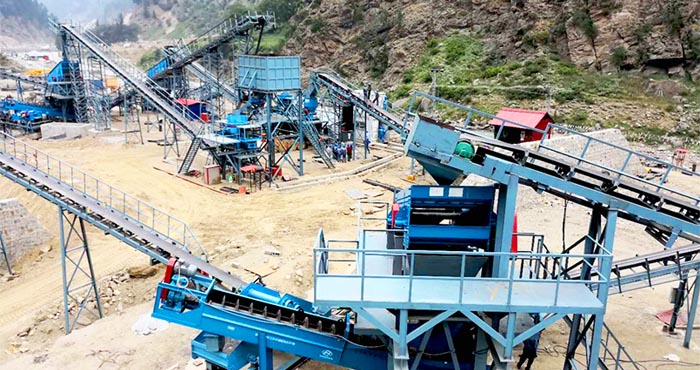 Advantages of stone crushing production line
1. High degree of mechanization: the equipment of the production line is well coordinated, and it does not need to consume too much labor cost. The machine performance is stable and the production efficiency is high. It can produce high-quality finished aggregates for the majority of investment users and increase user income.
2. Wider application range: The stone crushing production line can process the stones respectively in coarse, medium and fine crushing. , water conservancy, concrete mixing station and other industries supply higher quality high-quality stone.
The complete set of stone crushing production line is a crushing site composed of multiple machines. It is not limited by the size of the material and the applicable materials of the machine and equipment. It can be matched at will, and an ideal combination of machines can be selected for crushing operations.