The Process Flow of Quartz Sand Production Line
author:dahua2 time:2021-12-17
Quartz stone sand production line refers to the production line process equipment that produces quartz sand after a series of processing such as crushing, sand making, and screening. Quartz sand specifications: 0.5-1.0mm 0.6-1.2mm 1-2mm 2-4mm 4-8mm 8-16mm 16-32mm.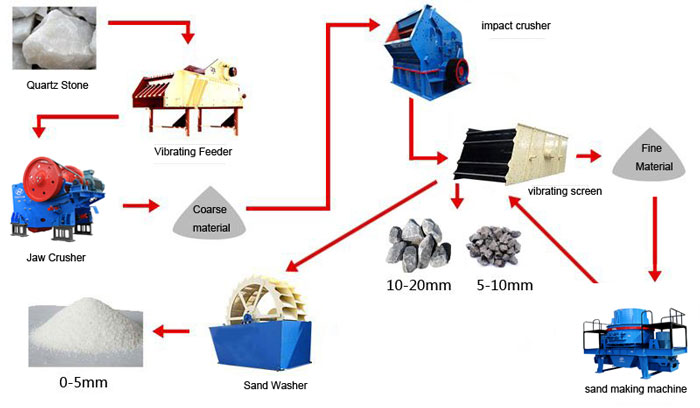 The quartz stone is sent to the jaw crusher by a vibrating feeder at a uniform speed for coarse crushing. The coarsely crushed quartz stone is sent to the impact crusher by the conveyor for secondary crushing, and the secondary crushed materials are screened by the vibrating screen , The material that does not meet the feeding requirements of the sand making machine is returned to the impact crusher to be crushed again, and the material that meets the feed size of the sand making machine is sent to the sand making machine for fine crushing, and the finely crushed materials are again screened by the vibrating screen. Those who do not meet the requirements are returned to the vsi sand making machine to continue crushing, and those that meet the requirements are sent to the sand washing machine for cleaning, and the cleaned quartz sand can be dehydrated to obtain the finished product.
Huazn can configure the appropriate type of quartz sand making equipment according to the different process requirements of customers to give full play to its best performance. The production line has a high degree of automation, low operating cost, high crushing rate, energy saving, large output, low pollution, easy maintenance, and the machine-made sand produced meets the construction sand standard, with uniform particle size, good grain shape, and reasonable gradation.