The Process of Gypsum Crushing Plant
author:dahua2 time:2021-12-10
Gypsum crushing production line is mainly composed of jaw crusher, impact crusher, cone crusher,vibrating feeder, circular vibrating screen, belt conveyor and other stone quarry machines. The specific process is as follows:
Gypsum ore, from quarries and underground mines, is crushed and stockpiled near a plant. Asneeded, the stockpiled ore is further crushed and screened to about 50 millimeters (2 inches) in diameter. If the moisture content of the mined ore is greater than about 0.5 weight percent, the ore must be dried in a rotary dryer or a heated roller mill. Ore dried in a rotary dryer is conveyed to a roller mill, where it is ground to the extent that 90 percent of it is less 149 micrometers (µm)(100 mesh). The ground gypsum exits the mill in a gas stream and is collected in a product cyclone. Ore is sometimes dried in the roller mill by heating the gas stream, so that drying and grinding are accomplished simultaneously and no rotary dryer is needed. The finely ground gypsum ore is known as landplaster, which may be used as a soil conditioner.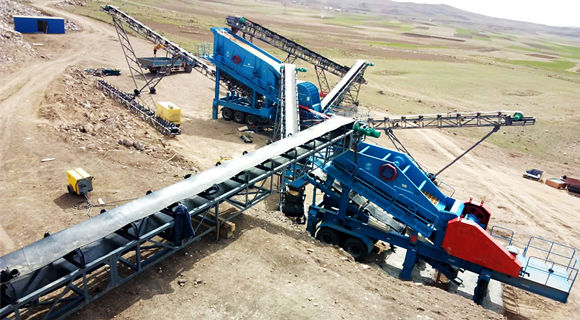 Huazn supply a complete line of gypsum crushing plant. Huazn gypsum crushing production line is designed with high performance gypsum crusher and assistant gypsum mining equipments, like vibrating feeder, belt conveyor and vibrating screen.
As a leading global manufacturer of crushing and mining equipments, we offer advanced, rational solutions for any size-reduction requirements, including quarry, aggregate, grinding production and complete gypsum crushing plant. We can also offer a completely after-sale service and it can be a good choice for you.