What Equipment is Required for 100 Million T/Y Sand and Aggregate Production Line?
author:dahua2 time:2022-02-21
The system configuration of sand and aggregate production line is generally composed of equipment such as conveying, coarse crushing, fine crushing. At present, the commonly used coarse crushing equipment in the industry is jaw crusher, and the fine crushing equipment includes cone crusher, impact crusher, VSI crusher, etc. Screening equipment is a vibrating screen, the conveying system is a vibrating feeder, and each link in the middle is connected by belt conveyor.
Of course, this is only the basic configuration of sand and aggregate production line, and the specific equipment selection should be determined according to the actual production situation, such as raw material hardness, processing capaciy, input and output size, site and many other factors.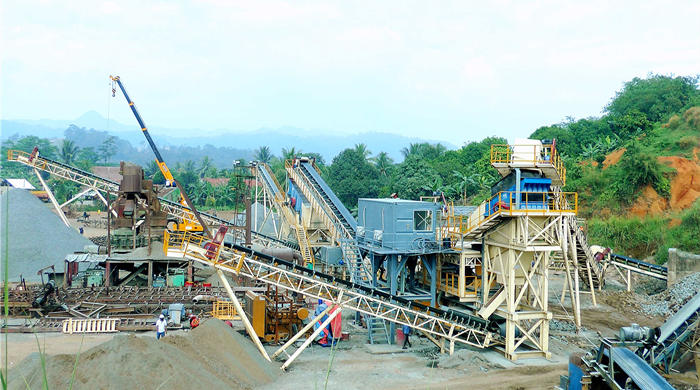 In terms of processing capacity, 100 million t/y sand and aggregate production line is a relatively large-scale production project, and the entire configuration is relatively complex. Generally speaking, if the size of the raw material is too large, it is standard to use the jaw crusher for the first crusher (jaw crusher), and the second crusher includes cone crusher and impact crusher. Among them, cone crusher is specially designed for granite, basalt, river pebbles and other hard rocks. For crushing of medium and low hardness stones such as limestone and bluestone, impact crusher can be used.
According to different situations, choosing different equipment models can make the best use of it, reduce wear and later maintenance costs, and is a more reasonable and economical configuration method.
If you want to produce artificial sand at the same time, you can add an vertical impact crusher (that is, a sand making machine) after the second crushing, and perform further fine crushing and shaping to produce artificial sand below 5mm. At the same time, the vertical shaft impact crusher also has the effect of stone shaping.
The overall process flow is generally operated in accordance with the process of vibrating feeder → jaw crusher → cone crusher / impact crusher → sand making machine → vibrating screen → sand washing machine. The entire crushing process forms a closed loop for the production of sand and gravel aggregates, and the size o the final product can be realized according to customer's requirements.