What Sand Washing Machine is used to clean the Sand with Large Mud Content?
author:dahua2 time:2023-02-23
With the rapid development of urbanization and the continuous expansion of infrastructure construction, sand, as a basic material, is one of the main raw materials for making concrete. It is necessary to control the mud content of sand. The clay content of sand has a great influence on the quality of concrete.
What kind of sand washing machine is used when the sand content is large?
There are two common types of
sand washing machine
on the market:
bucket wheel sand washing machine and spiral sand washing machine
. If the sand has large mud content, you can choose
bucket wheel sand washing machine
. This equipment is a washing and ore washing equipment for artificial sand (including natural sand). It is widely used in sand and stone field, mining, building materials, transportation, chemical industry, water conservancy and hydropower, concrete mixing station and other industries. The machine has the characteristics of high cleaning degree, reasonable structure, large processing capacity, small power consumption, and less sand loss, etc.
DXS bucket wheel sand washing machine production capacity: 20~350t/h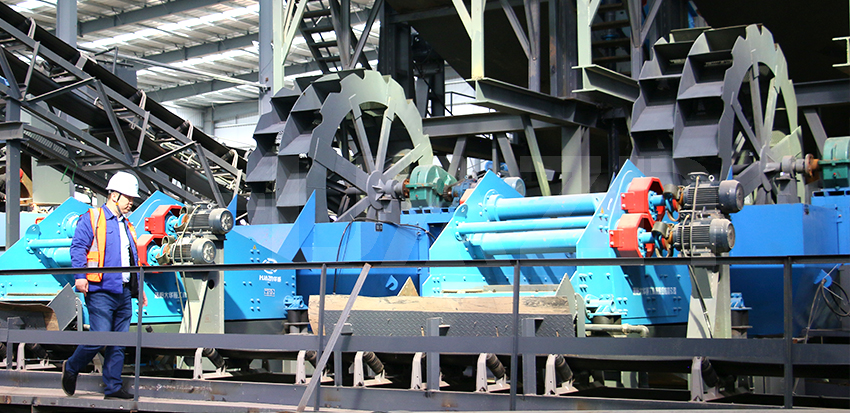 What are the advantages of bucket wheel sand washing machine?
1. Deep cleaning
It has three functions of cleaning, dehydration and classification.
2. Control sand shape
The friction between sand and sand is used to clean impurities, and the content of stone powder is reasonably controlled, the loss rate of fine sand is low, and the finished product has good grain type and less impurities.
3. Durable and wear-resistant
The impeller transmission device is separated from the water and the water material, from the pollution of sewage and impurities, in addition to the screen almost no wearing parts.
Luoyang Dahua
, one of the TOP crusher machine manufacture in China, the products are sold to France, Japan, Russia, Indonesia and other 25 countries around the world. If you don't know how to choose the machine, please contact us at any time.