What are types of Tyre Mobile Crushing Plants?
author:dahua2 time:2022-05-04
The tire mobile crushing station has various models and can meet different needs. According to its different functions, we can divide it into a coarse crushing mobile crushing station, a medium and fine crushing mobile crushing station and a mobile fine crushing and screening station. These equipments are used in production. Assist each other to complete the material processing process.
The crusher is the core part of the mobile crushing station. The crushers used in the mobile crushing station include jaw crusher, impact crusher, cone crusher, impact crusher, etc. Hundreds of matching schemes can be selected and matched flexibly.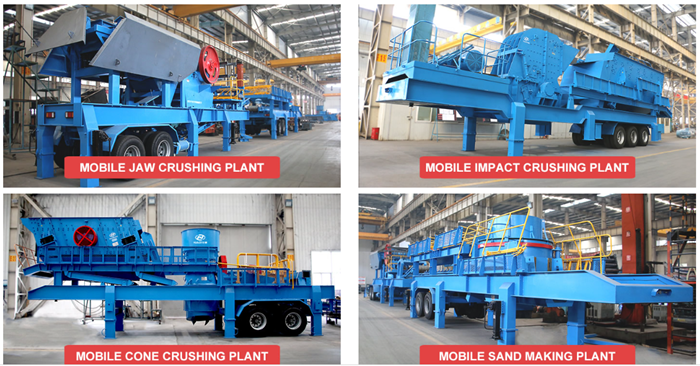 For the coarse crushing
mobile crushing station
, the common one is the mobile jaw crushing station. This equipment is mainly used to complete the coarse crushing of materials. It has the advantages of large feeding particle size, strong crushing capacity and high compressive strength. The station itself has various models. , according to different coarse crushing needs, you can choose different combination forms;
For medium and fine crushing
mobile crushing stations
, the common ones mainly include mobile impact crushing station, mobile cone crushing station and vertical shaft impact crusher. The functions of these three types of medium and fine crushing mobile crushing equipment are different. Mobile impact crushing station is mainly used to crush some materials with lower hardness. Its advantages are that the finished product has the advantages of good particle shape and large processing capacity, while mobile cone crushing station is suitable for processing materials with higher hardness. Its advantages are high crushing efficiency and long service life of wearing parts.etc. Mobile sand making machine is suitable for fine crushing and shaping.
Huazn has professional engineers to design
mobile crushing station
with an hour output of 30-500 tons for users, and configure a complete set of equipment reasonably and scientifically to ensure low investment and high income.