Cone Crusher Better For Crushing Pebble
author:dahua2 time:2022-05-03
River pebble is a kind of hard, wear-resistant, wide distribution, and beautiful appearance. After the crushed river pebble can be used in building decoration, it is an ideal green building material.
The compressive strength of natural river pebble is above 600kg/m2, and the Mohs hardness is about 7.5. Due to the high Mohs hardness, it is difficult to be crushed. In this regard, Dahua Heavy Machinery manufacture a HPY multi-cylinder hydraulic cone crusher, which is designed for crushing hard rocks. The equipment has strong crushing strength, high operating efficiency and high wear resistance, and has received good feedback in construction operations. It is also called river pebble cone crusher by users.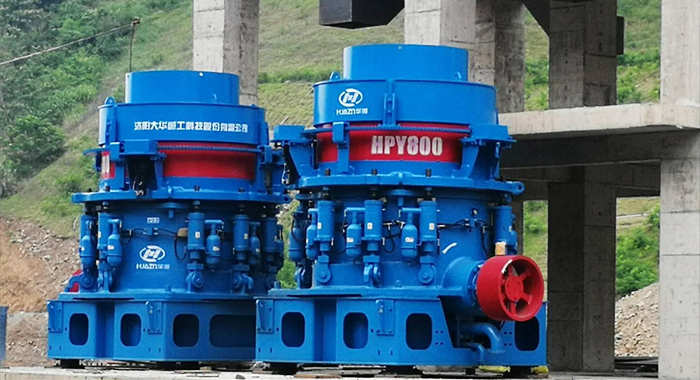 What are the advantages of river pebble cone crusher?
1. Excellent grain shape of the finished product: Laminated crushing design, the discharge grain shape is better, the processed materials are mostly cubic, the particle size is uniform, and the gradation is reasonable, which can fully meet the next sand making treatment requirements;
2. High performance of the whole machine: The two-way iron passing hydraulic cylinder can let the iron block pass through the crushing cavity, and has excellent iron passing performance, which ensures the continuous operation of the equipment and high production efficiency. The hydraulic cavity cleaning function can easily and quickly clear the accumulated materials in the crushing cavity, greatly reducing the labor intensity of workers and improving work efficiency;
3. Wide range of application: The hydraulic motor drives the adjustment sleeve (fixed cone lining plate), which can accurately adjust the discharge port to make the feeding stable, the utilization rate of the lining plate is high, and the product particle shape is good. The hydraulic motor can also rotate the adjusting sleeve and the fixed cone lining plate out of the supporting sleeve, so as to replace the fixed cone lining plate and the moving cone lining plate, which greatly simplifies the workload of replacing the lining plate;
4. High wear resistance: All parts of the pebble cone crusher have wear protection, which reduces the maintenance cost and generally increases the service life.
Luoyang Dahua Heavy Machinery is a direct-selling manufacturer integrating R&D, production, sales and service. Its production scale is large, its strength is strong, and its price is affordable. Our equipment not only guarantees quality, but also provides perfect after-sales service. With a professional R&D team and a strong after-sales team, we will serve you from equipment selection, site inspection, equipment manufacturing, installation, commissioning, delivery and use.