Which Kind of Crusher Machine can be used for 60-80 TPH Quartz Stone Crushing?
author:dahua time:2020-02-25
Quartz stone after crushing can be used as excellent sand and stone resources in the building industry, with the increase of crusher types, different types of crusher have different machine structure, working mode, output, and so on. Which kind of crusher can be used for the 60-80 tph quartz stone crushing?
Mechanism sand is the key materials to meet the supply of market demand, it is broken by various ores and rocks, and the hardness of each material is different, the use of crusher is different. Quartz stone is a kind of material with a strong corrosion resistance, high wear resistance, from the hardness of the material, it is recommended to use the impact crusher. Because impact crusher as the secondary crushing equipment, it has large crushing ratio and a wide range of use. It can carry out medium and fine crushing of materials below 350 mpa.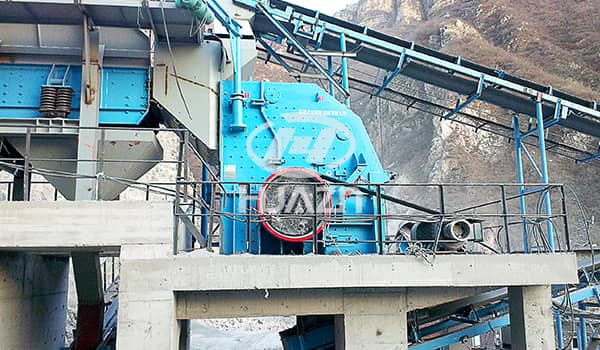 1. High yield, in line with environmental requirements. Reasonable layout and design can improve the work efficiency of the equipment. Impact crusher is use of foreign manufacturing technology to closely combine all parts together, to make the machine running stably in the process of operation, and get high work efficiency. Nowadays, the environmental protection requirements are more and more strict, in order to comply with the environmental protection, the equipment is also installed with a sealing device system, can effectively prevent dust leakage, in line with the environmental protection requirements.
2. The crushed grain shape is uniform and the grains are full. The difference between the mechanism sand and river sand is that the quality of the mechanism sand is controlled by the crusher. When crushing gravel and quartz, the impact crusher USES the impact hammer and the impact plate to repeatedly collide and hit the materials under high speed operation, and the processed materials have uniform particle shape and full particles.
When purchase the crusher machine, customers should purchase the appropriate equipment model according to their actual situation or follow the expert's advice. Please contact our online service for free to get latest quotation.