Vertical Complex Crusher|Complex Crusher Manufacturer
author:dahua time:2019-08-02
Vertical complex crusher is a new type of fine crusher by absorbing advanced foreign technology and optimized design. it is used for crushing limestone, dolomite, sandstone, soft iron ore and other dry and non-sticky materials below 160Mpa, under special circumstances can also be used for crushing high hard brittle materials.
Luoyang Dahua is crusher machine, complex crusher manufacturer, and participates in the drafting of mining industry standard unit. Our PFL vertical complex crusher obtained National Patent (Patent Number:ZL200610017870.5) . Over the years, the total sales of PFL complex crusher is nearly 1000, in the industry has a high reputation and reputation. Why is Dahua compound crusher so popular in the industry?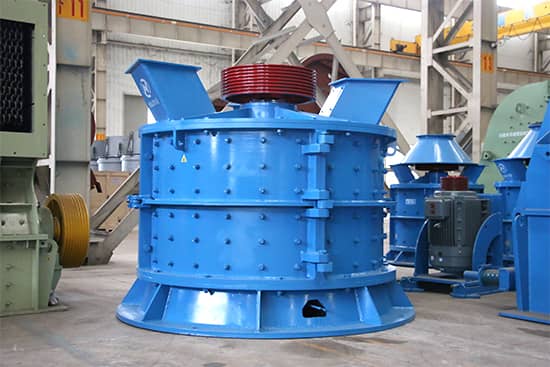 Advantage of complex crusher:
1. Large crushing ratio, the max.feeding size is 80-220mm, discharging size ≤3mm and account for about 90%.
2. Straight crushing chamber, high processing capacity. There is no partition or grate in the middle of the crushing chamber, so the feeding is smooth, the material passing through is large and the passing speed is fast.
3. Unique feed tray structure, feed tendon and feed scale board is in circular cross distribution. The feed tendons can be used as feed scale board after worn, greatly improving the material utilization, and reduce the use cost.
4. Long service life of wearing parts, use multi-alloy wear-resistant material with high hardness and high toughness, less abrasion.
Working principle:
When the materials fall into the crushing chamber, they are threw to the impact plate by the feed tray, and then drop into the space between hammer head and impact plate. All these materials are striking, grinding and squeezing by the hammer head and finally discharged.
Luoyang Dahua manufactures jaw crusher, complex crusher, sand making machine. In the manufacture process, the company strictly controls the machine quality, grasps the detail management. Each machine should be tested before leaving the factory to meet the design parameters and meet the requirements of the user. If you have any questions in the process of choosing crusher, please contact online customer service, or send email to lydhchina@huazn.com.