200TPH Construction Waste Recycling Equipment Configuration and Production Process
author:dahua2 time:2021-12-07
Processing capacity: 200t/h per hour (continuous production for 20 hours, no damage to equipment)
Finished product size: 0-5mm, 5-10mm, 10-20mm, 20-30mm
Configuration equipment: mobile construction waste jaw crushing station, mobile construction waste impact crushing station
Auxiliary equipment: iron remover, vibrating feeder, conveyor belt, air separation equipment, dustproof spray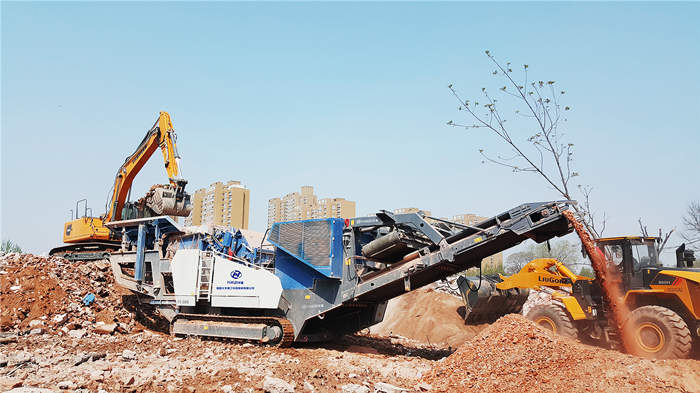 Construction waste recycling production process:
1. Feeding and coarse crushing: jaw crusher + vibrating screen + vibrating feeder + conveyor belt
It can carry out primary crushing and processing for large pieces of construction waste. The overall process is simple and economical. The finished product can be screened into different specifications through a vibrating screen. Before the particle size of the finished product is mostly 50-150mm, it can be used to fill the road cushion. In the coarse crushing process, there will be a separator to directly remove the steel bars and iron blocks, and the air separation equipment will blow away light materials such as wood chips and plastics.
2. Sand making and screening: impact crusher + vibrating screen + conveyor belt
The construction waste can be processed into recycled sand and gravel aggregates to replace natural sand and gravel. The finished product has high application value and broad investment prospects. The finished product is 0-5mm, 5-10mm sand, which can be used as regenerated fine aggregate or to produce permeable bricks. The impact crusher is used for fine crushing. The finished product is cube-shaped with high neatness and good grain shape. After the sand is made, it is screened and sieved into a variety of sizes and sizes, and put them in the finished product area.