Advantages of VSI High Efficiency Sand Making Machine
author:dahua2 time:2022-07-22
VSI sand making machine is a kind of stone sand making machine, which is often used in sand and gravel aggregate production technology. Due to its significant advantages in sand making, comprehensive performance, energy saving and environmental protection, it plays an important role in the current basic building aggregate production process. It plays a leading role in the current production process of basic building aggregates.
1. The adjustable discharge size and high efficiency:
The stepless frequency conversion adjustment method is used to complete the adjustment of the speed of the new impact sand making machine, which can not only flexibly adjust the discharge particle size of the sand making equipment, but also further improve the sand making production efficiency.
2. Stable performance and easy maintenance:
The method of intelligently adding lubricating oil through the electronic hydraulic pump reduces the input of manual maintenance and ensures the high productivity and stability of the new VSI sand making machine.
3. Simple operation and high coordination:
The centralized electric control system is used for the actual sand making operation, which can be operated with one button, reducing the consumption of labor costs, and a single host can complete the sand making production.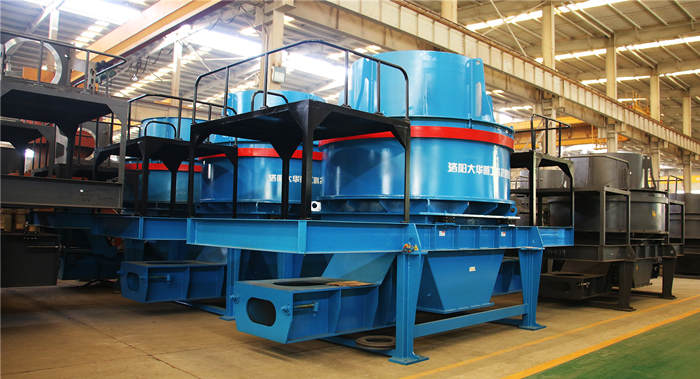 4. Wide application and high output:
The new impact sand making machine has excellent crushing and sand making function, and has a wide range of applications. It can crush raw materials such as river pebble, basalt and granite, and the output rate can reach more than 95%.
5. No sieve bottom, not afraid of wet materials:
The new VSI sand making machine adopts the structure design without screen bottom, which is free from the interference of the moisture of the raw materials. The raw materials with a moisture content of 36% can also directly enter the crushing cavity for sand making operations.
6. Long service life and low cost:
The crushing chamber is designed with reference to the multi-angle collision of raw materials. It adopts the principle of stone hitting, which can reduce the loss of wearing parts and reduce the cost of use. The hammer head adopts a multi-stage adjustment device, which has a longer service life. Compared with the same sand making equipment costs can be reduced by 45%.