Difference between Hammer Crusher and Impact Crusher
author:dahua time:2019-08-13
Hammer crusher and impact crusher are both used for secondary crushing. When choose the crusher, many customers don't know which one is better, what is the difference between hammer crusher and impact crusher. Luoyang Dahua, crusher, impact crusher, mobile crushing plant and hammer crusher manufacturer, from machine selection, production line design to installation and commissioning, the company provides one-stop service. Here, let's listen to the specialist introduction.
Applied materials
Hammer crusher is suitable for the crushing of fragility materials with compressive strength less than 200Mpa, such as cement, coal gangue, limestone, and gypsum, etc.
Impact crusher is used to treat the materials with length of 100-500mm, compressive strength more than 350Mpa, and the materials has high humidity, like river cobble, limestone, quartzite, sandstone and so on.
Impact crusher has wider applicability than hammer crusher, more kinds of materials to be processed, and wider selectivity.
Product granularity
Hammer crusher: when the materials are fed into the crushing chamber, they are crushed by impacting, cutting, hitting and grinding from the hammer which is moving with high speed. The crushed materials smaller than the sieve are discharged, the large size are crushed again.
Impact crusher: when the impact crusher works, motor drives the rotor runs at high speed. After the materials enter into the chamber, they are striking by the hammerhead, and throw to the next impact plate for further crushing. The materials are crushed through first, secondary and tertiary impact plates, until reaching the required granularity.
Impact crusher has large crushing ratio, the finished products are finer and rounded, which is suitable for medium fine crushing.
Wearing part
Hammerhead is the main wearing part of hammer crusher. The machine has more than 100 hammerheads, and the metal utilization rate is low, only about 35%. Therefore, it takes a lot of manpower and material resource to replace a set of hammers, and the maintenance cost is relatively high.
The abrasion of wearing parts of impact crusher is smaller than the hammer crusher, the metal utilization rate if up to 48%, and the spare parts are interchangeable, the maintenance cost is low.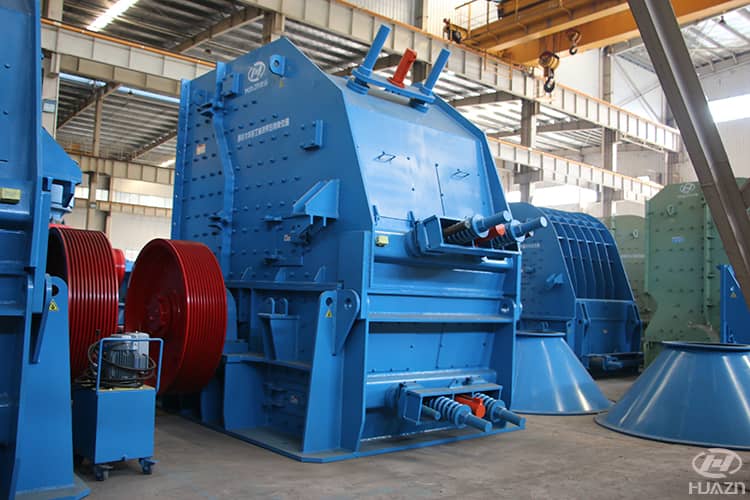 In conclusion, the impact crusher has large crushing ratio, high yield, a wider range of materials that can be treated. For the materials with humidity and high particle shape requirements, can also choose impact crusher. If the customers do not have high requirement of finished products, you can choose hammer crusher. It's better to consult crusher manufacturer to select the suitable crusher.