How to select the Type of Sand Washing Machine
author:dahua time:2021-05-31
As an important sand washing equipment in the sand making production line, the sand washing machine is widely used for cleaning, grading and dehydration of materials in sand and stone field, building materials, chemical industry, transportation, concrete mixing station and other industries. The sand washing machine has spiral sand washing machine and wheel sand washing machine according to the different structure and working principle.
1. Spiral sand washing machine
Spiral sand washing machine has the obvious advantages of simple structure, stable operation, large output, clean sand washing and so on, which is widely used in construction sites, sand and stone factories, power stations, and concrete mixing stations, etc.
The material falls vertically into the high-speed rotating impeller from the upper part of the machine. Under the action of high-speed centrifugal force, the sand and stone are stirred through the spiral device in the equipment, so that the soil and water in the sand and stone aggregate are mixed and discharged from the outlet of the spiral sand washing machine. The sand and stone aggregate is gradually screened out under the spiral device, and then discharged from the outlet at the top of the spiral sand washing machine, so as to achieve the effect of cleaning and screening.
2. Wheel sand washing machine
Wheel-type sand washing machine has the advantages of novel structure, reliable transmission device, reasonable structure, large processing capacity, low power consumption, high cleanliness, and less fine sand loss. The transmission parts of the wheel sand washing machine are isolated from water and materials, and the failure rate is far lower than the commonly used sand washing machine on the market. It is an ideal choice in the domestic sand washing industry.
When the wheel sand washing machine works, the motor drives the impeller to rotate slowly through the deceleration of the triangle belt, gear and reducer. The material enters the washing tank through the feed tank, rolls under the drive of the impeller, and grinds each other to remove the impurities covering of the sandstone, and destroys the water vapor layer covering the sand grains, which is convenient for dehydration. Then add water to form a strong flow, take away the impurities and foreign bodies with small gravity, and the impurities are discharged from the overflow outlet, the cleaned sand and stone are taken away by the blade, the sand and stone are poured into the discharge tank from the rotating impeller, and the cleaning function of sand and stone is finally completed.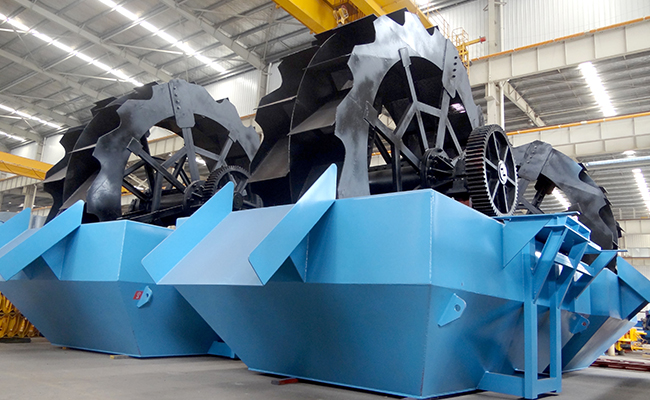 Luoyang Dahua is has a professional R & D team, a strong after-sales team, from the equipment selection, site investigation, equipment manufacturing, installation, commissioning, delivery and other aspects, the company has professional engineer to service for you. If you want to know more crusher machine, please leave message to us. Email: lydhchina@huazn.com.