Huazn Successful Delivery 400TPH crawler-type mobile jaw crushing plant
author:dahua2 time:2022-04-25
On April 14, 2022, the 400t/h CMC series crawler-type mobile jaw crushing plant independently developed by Huazn Company was successfully delivered. Excellent quality and service are the consistent tenet of Huazn. The equipment of this project is designed by the technical team of Huazn Company in accordance with high standards and manufactured according to strict requirements.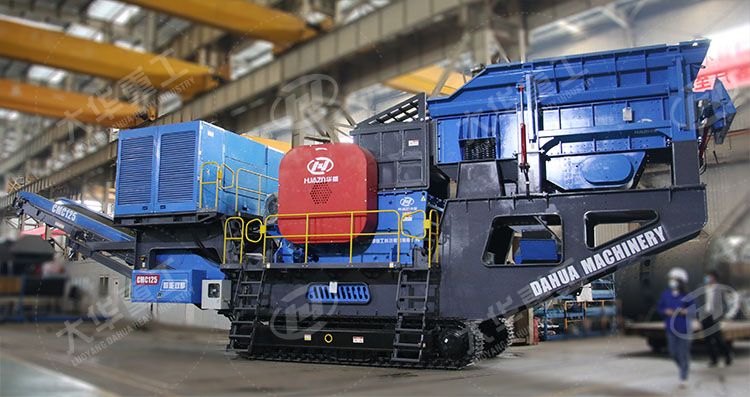 The crawler-type mobile jaw crushing plant is mainly composed of high-efficiency vibrating feeder and high-capacity jaw crusher, belt conveyor, power box, etc. This machine is mainly used in the production of sand and gravel aggregates in the field of coarse crushing. It is a large-scale coarse crushing equipment for crushing various hard and strongly abrasive corrosive rock minerals, and produces sandstone products with full grain shapes according to different stone materials and hardness. The jaw crusher can be adjusted to different crushing cavity types according to actual needs, which expands the application field and scope of materials in the jaw mobile station.
The design capacity of crawler-type mobile jaw crushing plant is 450 tons per hour, which is suitable for on-site operations such as tailings treatment, railways, tunnels and rivers, and mining. Equipped with imported hydraulic system, energy-saving dual-engine design, stable operation, more suitable for various working conditions and transitions. It has realized the contract signing in the season, the landing in the season, the product in the season, and the delivery in the season. Crawler mobile crushing plant is also a representative product of Huazn Company in recent years. With the comprehensive advantages of technology research and development, process design and high-end manufacturing, Huazn Company provides customers with excellent equipment, high-quality services and preferential prices.