Mobile Crushing Plant for Crushing Granite
author:dahua2 time:2022-07-06
Granite mobile jaw crusher is a new type of mobile stone crushing and processing equipment that integrates "crushing and screening" and is installed on a movable frame. The design concept of this machine is to be more suitable for various situations of mobile crushing, reduce the obstacles of crushing site, environment and basic configuration to customers' crushing operations, and truly provide customers with simple and low-cost rock crushing equipment.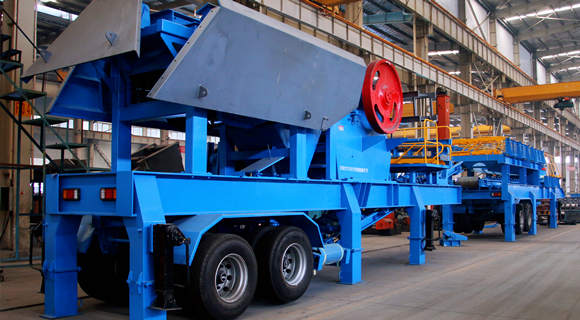 Advantages of using mobile jaw crusher for crushing granite:
1. Scientific ratio, good work effect
The granite materials processed by the mobile jaw crusher are mostly cubic, without tension and cracks, with good grain shape and less powder.
2. Easy to move, small footprint
The machine adopts an all-in-one group machine, which occupies a small area. It can be moved at will when it is hung on the front of the car. It is easy to operate and has higher efficiency.
3. Reasonable design, lower operating cost
The use of hybrid mode or full power drive unit module can help users completely break through the constraints of fixed job sites, high infrastructure costs, and troublesome long-distance transportation, and realize modular mobile crushing in all working conditions, all-weather, fast and low-cost operations. Production.
4. Triple protection, environmental protection standards
Atomizing spray equipment is added at the discharge port, a dust-removing fog cannon is installed on site, and a muffler device is installed on the internal body, which can effectively control the on-site dust and noise pollution and realize environmental protection operations.