Operation Regulation of Vibrating Feeder
author:dahua time:2019-10-25
Vibrating feeder is used before jaw crusher, which can feed the rock to crusher machine evenly and continuously, and it also has the function of per-screening. The stable operation of the vibrating feeder plays a certain role in guaranteeing the subsequent crushing process, so how to ensure the stable operation of the vibrating feeder? When the user is in use, following the correct operation procedures of vibrating feeder can be guaranteed to play the effect vibrating feeder.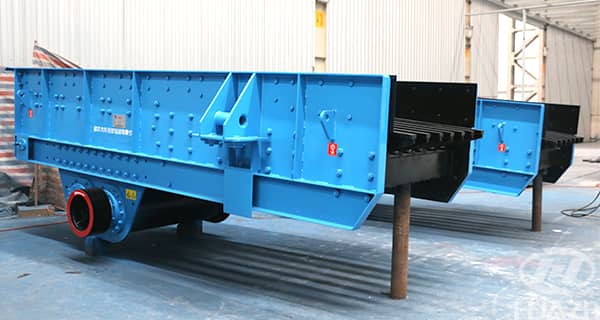 Operation regulation of vibrating screen
1. Preparation before machine start.
(1) read the on-duty records and deal with the problems left over from the previous shift;
(2) check and exclude whether there are any materials left between the body and the chute, spring and bracket that affect the movement of the body;
(3) carefully check whether all fasteners are fully fastened;
(4) check whether the lubricating oil in the exciter is higher than the oil standard height;
(5) check whether the transmission belt is in good condition: replace it if any damage is found; When there is grease, wipe it with a cloth;
(6) check whether the protective device is in good condition and eliminate the unsafe phenomenon in time.
2. Machine start up.
(1) after inspection, the machine and the transmission part are normal before starting up;
(2) the machine is only allowed to start without load;
(3) after starting, if any abnormal phenomenon is found, stop the machine immediately, and start it again only after finding out and eliminating the abnormal situation.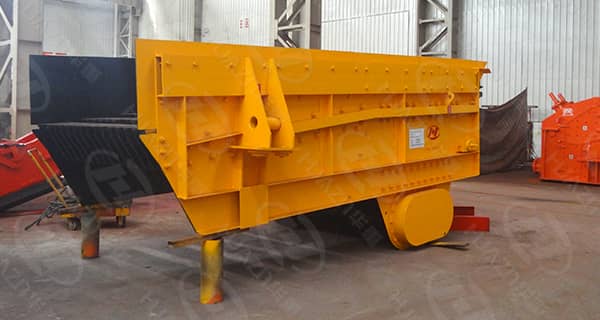 3. Operation process.
(1) the machine can run with the material only when it is stable and vibrating;
(2) feeding should meet the requirements of load test;
(3) the machine stop shall be carried out in the direction of the process. It is forbidden to stop the machine with material or continue feeding after stopping the machine.
Above is the operation regulation of vibrating feeder, only the users use the machine according to the operation regulation, can effectively avoid the unnecessary fault, to ensure the crushing efficiency of the whole production line. The vibrating feeder manufactured by Luoyang Dahua has ZSW series vibrating feeder and DHZ series vibrating feeder, with the production capacity 150-1250 t/h, complete type, which can meet the different requirements from the customers. Stable operation, simple operation, widely used in metallurgy, coal, construction, building materials, chemical, abrasive and other industries. Welcome the customer contact us: lydhchina@huazn.com.