The Advantages of Vertical Compound Crusher
author:dahua2 time:2021-12-23
Vertical compound crusher (compound crusher), is one of the common equipment in crushing plant and sand making plant. Integrating the advantages of hammer crusher, impact crusher, cone crusher and other crushing equipment, it can effectively reduce the particle size of the mill and increase the output of the mill by 35%. -45%.
It can be widely used in raw material and clinker fine crushing operation of cement plant. At the same time, it can also be used for dolomite, coke gem, lead and zinc ore, serpentine, high furnace slag, coal gangue, phosphate ore and other medium hardness materials, especially for hard limestone, dolomite, granite, basalt and other artificial sand or highway pavement stone processing and crushing.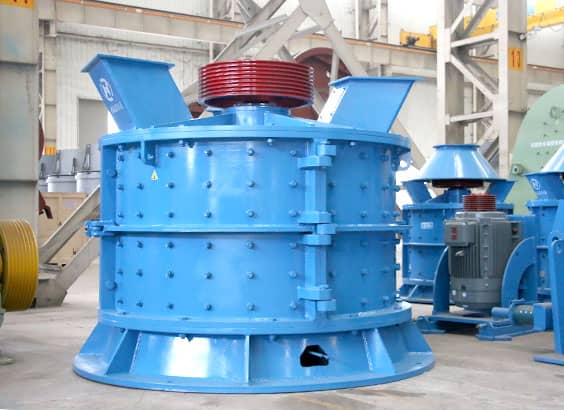 Production advantages of vertical composite crusher
1. Adjustable discharging granularity
The discharge particle size can be adjusted arbitrarily, and is not affected by the abrasion of the blower and the liner. One machine is multi-purpose to produce various specifications of sand and gravel;
2. Good grade of finished materials
The percussion operation principle, the output is more and better, the material is uniform without too much needle-like material, the sand is cubic, the particle size is uniform, and it can be sold at a high price;
3. It is not easy to be blocked and wears little
There is no screen bar setting, it is not easy to be blocked when crushing materials with high moisture content and large mud content. The rotor body has a special structure, and the rotor body is hardly worn when crushing materials;
4. Good durability and long service life
Adopting an elastic adjustment mechanism, the non-breakable materials can be automatically discharged without causing equipment damage; the bearings are arranged horizontally, with a long life, and can crush high-temperature materials (such as cement clinker);
5. Easy to replace wearing parts
The rear cavity is equipped with a screw rod or a hydraulic opening mechanism, and the wearing parts can be easily replaced without the main equipment.