The Process Flow of River Pebble Sand Production Line
author:dahua2 time:2021-10-22
The river pebbles sand making process is divided into four stages: coarse crushing, medium fine crushing, sand making and sieving.
After the river pebble sand making equipment is put into operation, the mined stone is evenly sent to the jaw crusher by the vibrating feeder for coarse crushing, and the produced coarse material is sent to the cone crusher by the belt conveyor for further crushing, and the fine crushed stone is sent to the vibrating screen to screen out two kinds of stones, and the stones that meet the feed size of the sand making machine are sent to the river pebble sand making machine for sand making.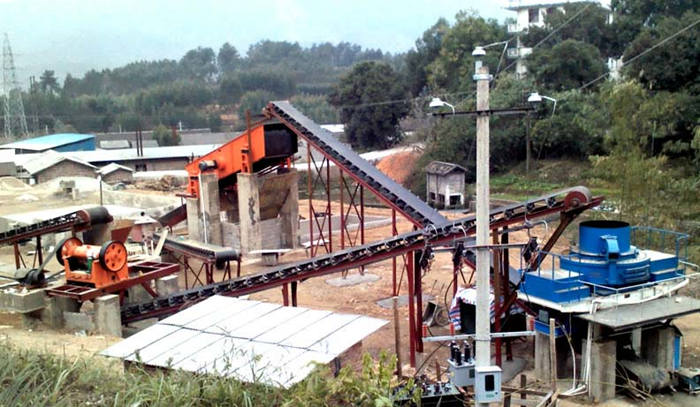 Subsequently, the produced sand and gravel powder is sent to the vibrating screen for screening, and the material that meets the requirements of the finished product size is sent to the sand washing machine for cleaning, and the finished product is output by the finished product conveyor belt after cleaning. The material that does not meet the requirements of the finished product size is returned from the vibrating screen to the sand making machine for reprocessing, forming a closed loop many times. In addition, if you choose a dry production process, it can be equipped with coarse and fine powder separators and dust removal equipment.
The equipments of the sand making production line are configured in accordance with the specification and output as well as application of the sand, we provide solution and technical support, and design the process according to the production site of customer, we make every effort to provide the most reasonable and economic production line for customers.