Track-mounted Mobile Crushing and Screen Plant Manufacturer
author:dahua time:2020-12-02
Track-mounted mobile crushing and screening plants can be widely applied to primary crushing, secondary crushing, tertiary crushing, quaternary crushing, sand making, shaping, sand washing, classifying and screening of minerals and stones in various industries. It can also be applied to civic construction waste disposal, civic projects, bridge and tunnel construction and other projects that require timely transferring operations, thus meeting the diverse needs of different customers.
Luoyang Dahua CMC track-mounted mobile crushing and screening plant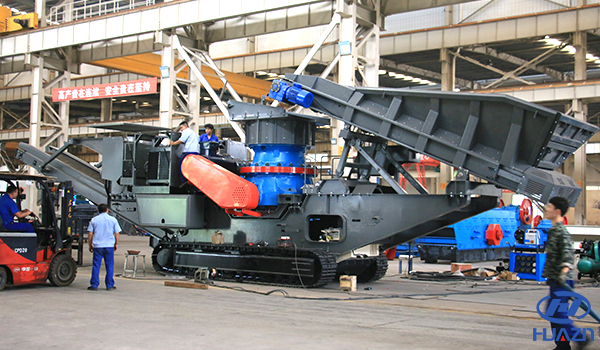 1. The chassis adopts the track-mounted mechanism with the minimum gap of 263mm from the ground and the maximum climbing angle of 20°, which is able to meet the needs for equipment to transfer to different working sites of mining and construction waste disposal.
2. The main conveyor and the natural fine material conveyor can be extended and folded by hydraulic cylinders. After folding, the whole machine can meet the road transportation requirements without removing any parts.
3. According to the differences in materials, end product particle size, and technical design, there are various forms of equipment configuration solutions.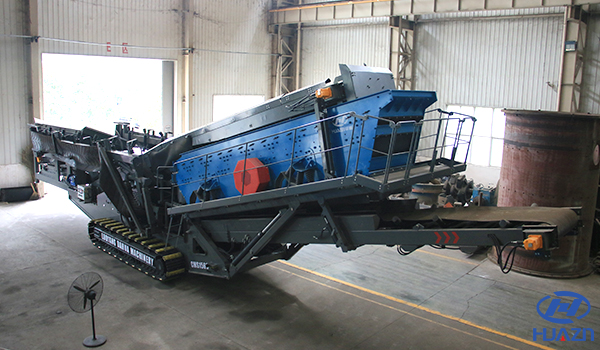 4. Flexible and Selectable Driving Methods (Omni-Hydraulic Driving/Hydraulic Driving + Grid Power Driving).
According to the different working conditions of customers, a variety of configuration options such as omni-hydraulic driving, hydraulic driving +grid power driving, etc. are available to achieve flexible combination and controllable cost. The hydraulic cylinders in all hydraulic systems are equipped with safety valves. In case of shutdowns or emergencies, each hydraulic cylinder will stay at the current position so that safe production is effectively guaranteed.
5. Utilize Imported Motors and Imported Hydraulic Driving Equipment.
The imported Cummins motors(Optional) are utilized, with low fuel consumption and smooth operation. The imported crusher driving motors, Eaton hydraulic motors, can generate sufficient force, with high efficiency and high productivity.
Luoyang Dahua has a high-quality elite production team, which implements strict quality management in the production process and provides a reliable guarantee for high-quality complete sets of crushing and grinding equipment. Please contact us to get more information about Dahua crusher machine. Email: lydhchina@huazn.com