What are Secondary Crushers?
author:dahua2 time:2022-04-06
In the sand and gravel aggregate crushing production line, the whole crushing process can be divided into one, two and three-stage crushing according to the number of crushing. The number of stages of crushing in a crushing production line means that there are several crushing processes. Generally speaking, secondary crushers are mainly impact crushers and cone crushers. Secondary impact crushers and cone crushers are used to further process primary-crushed aggregate,
Although they are both secondary crushing equipment, there are certain differences in performance design. The following will introduce them separately.
The impact crusher is a crushing machine that uses impact energy to crush materials. The purpose of changing the material discharge particle size and material shape can be achieved by adjusting the gap between the impact frame and the rotor. It is mainly suitable for the crushing of various coarse, medium and fine materials with a feed particle size of less than 700mm and a compressive strength of not more than 350MPa.
Advantages: small size, simple structure, large crushing ratio, large production capacity, uniform product particle size, and selective crushing action, high output.
Disadvantages: The blow hammer and the impact plate are particularly easy to wear, especially when breaking hard rocks, the wear is more serious and needs to be replaced frequently; it is not suitable to break plastic and viscous materials.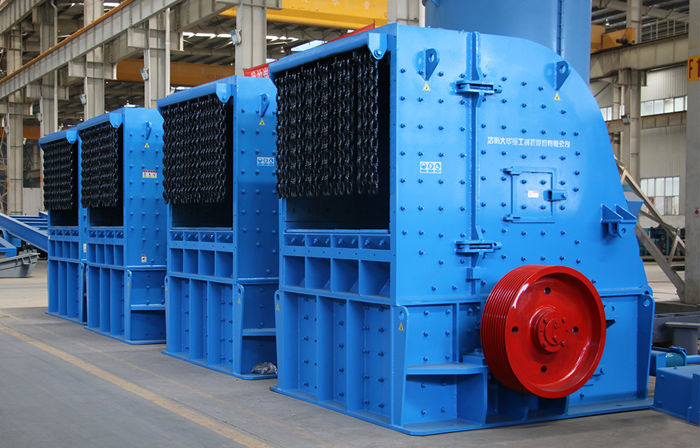 2. Cone Crusher
The cone crusher is a crushing machine that uses the gyratory motion of the crushing cone in the inner cone cavity of the shell to squeeze, split and bend the material to break various rocks. It is only suitable for medium or fine crushing operations.
Advantages: large crushing ratio, high efficiency, low energy consumption, less dust, uniform product particle size, stable work, low failure rate, and not easy to over crush.
Disadvantages: The structure and maintenance are more complicated, the body is high, and the price is expensive.