What are the Equipment for Making Machine-made Sand?
author:dahua2 time:2022-08-24
Machine-made sand refers to rock particles with a particle size of less than 4.75mm, which are produced by mechanical crushing and screening of rocks, commonly known as artificial sand, also known as artificial machine-made sand.
Commonly used crushing equipment is jaw crusher, impact crusher or cone crusher. Among them, the jaw crusher is mainly used for the coarse crushing of large stones; the impact crusher is the same as cone crusher. , so as to facilitate subsequent sand making machine operations. But there is a difference, the impact crusher is mainly for soft stone processing, such as: bluestone, limestone, coal gangue, etc., while the cone crusher is mainly for high hardness stone crushing, such as: granite, river pebbles, pebbles, quartz stone, etc. , users can choose which one to use according to their own needs.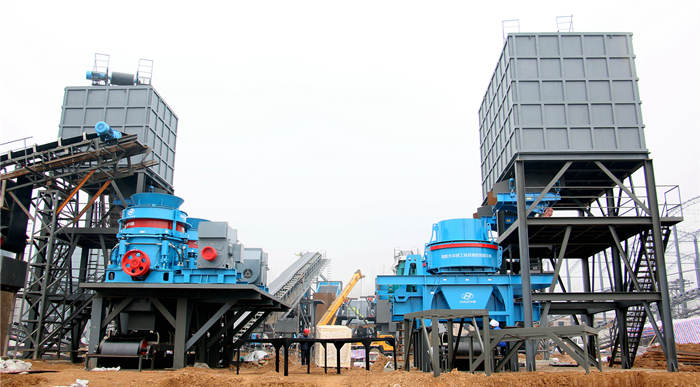 The commonly used sand making equipment is the vertical shaft impact crusher sand making machine. Compared with the traditional sand making machine, the machine can save 50% energy. It adopts the working methods of "stone-on-stone" and "stone-on-iron", and the deep cavity impeller design increases the throughput of the whole machine, and can make various rocks, sand, river pebbles, etc. The grain size is uniform and the compressive strength is high, which is far more in line with the construction requirements than the sand produced by the natural sand and ordinary hammer sanders, and can improve the construction quality.
The sand washing equipment used in most cases is a wheel bucket sand washing machine. The wheel bucket sand washing machine has high cleaning degree, slow running, and less sand loss when washing sand. , can also be used in parallel to meet higher production capacity requirements, sand washing can be washed once or twice, all according to customer needs.
In addition, a complete set of machine-made sand production line also needs to be equipped with some auxiliary equipment, such as conveyors, feeders, screening machines and corresponding noise reduction and dust removal devices.