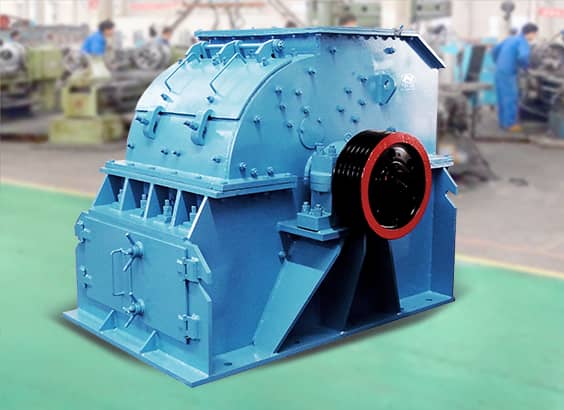 PC Series Hammer Crusher
Feed Size: 50-350mm
Discharge Size: 0.3-43 m³/h
Application Fields: cement, construction, metallurgy, electric power.
Applied Material: limestone, coke, coal
Description
PC series is a hammer series which mainly rely on the impact motion of rotating hammer in hign speed and materials inside. It features in simple structure, high crushing ratio, high efficiency and so on. Generally this series can be applied on dry crushing and wet crushing. Besides, the distance between gird sections, discharge size all can be altered at user's will.
Features
1. Adopting new technology, the working hammer is designed has features of reliable wear-resistance and impact resistance.
2. The distance between gird sections, discharge size all can be altered at user's will.
3. The sealed structure has solved the problem of dust pollution and ash leakage in the crushing plant.
4. Scientifically rational sructure design ensures reliable running, low consumption of wearing parts and operation cost.
Working Principle
The electromotor drives the rotor to rotate at high speed, when the materials are fed into the crushing chamber, they are crushed by impacting, cutting, hitting and grinding from the hammer which is moving with high speed. On the bottom of the rotor, there is sieve plate, the crushed materials with smaller size than the screen size are discharged from the sieve plate, and the coarse particles bigger than the screen size are retain on the sieve plate for further hitting and grinding by the hammer until they are crushed to the required granularity, and then discharged from the sieve plate
Parameter
Specification

Feed Size(mm)

Discharge Size(mm)

Capacity(m3/h)

Power(kw)

Dimension

(mm)

Weight(kg)

PCφ400×175

<50

<3

0.3

PCφ600×400

<100

<15

7

15

1000×980×1120

1445

PCφ600×600

<100

<15

9

37

2245×1160×970

3100

PCφ600×1200

<350

<25

18

37

3000×1700×1180

3750

PCφ800×600

<200

<10

15

55

1234×1360×1120

3480

PCφ800×800

<200

<15

20

75

1432×1360×1120

4100

PCφ1000×800

<200

<15

30

115

1500×2230×1515

6700

PCφ1000×1000

<200

<15

43

130

3690×2230×1515

8652

PCφ1250×1250

<200

<20

62

180

2424×2280×1942

14000

PCφ1400×1400

<250

<20

106

280

5306×3440×2475

32000

PCφ1600×1600

<350

<20

156

480

5800×3780×2700

37500
Request For Quotation
If you have any suggestions and opinions about our products, please leave a message and we will immediately answer your questions. Thanks for the support.

Tel.: +86-379-62669977/78/58
E-mail:

[email protected]

Add.: No.280, Guanlin Road, Luoyang, Henan, China