Limestone Crusher Machine, Multiple Model Impact Crushers for Your Selection
author:dahua time:2019-08-22
Impact crusher is the common used crusher machine in stone crushing production line. It is suitable for the medium and fine crushing of medium hard and soft materials. Limestone is medium hard rock with big brittleness, so impact crusher is the first choice for limestone crushing. There are multiple model impact crusher for selection, from 30tph to 800tph.
Impact crusher model for limestone crushing
There are multiple manufacturers to make impact crushers in the market, here we introduce the model of Dahua impact crusher to meet the requirement of limestone crushing.
Luoyang Dahua, as an independent research and development manufacturer of the production of crusher equipment, the production of each equipment is after strict design review, according to the manufacturing standards and quality testing. The main models of the production are PFQ1310, PFQ1315, PFQ1520, etc., with the capacity ranging from the minimum 50t/h to 1200t/h, various specifications are available.
Model
Max. Feed Size(mm)
Discharge Size
(mm)
Capacity
(t/h)
Power
(kw)
<150MPa
<250MPa
PFQ1108
300
150
30
50~100
75
PFQ1110
400
200
30
80~150
110
PFQ1310
500
200
40
140~200
160
PFQ1313
500
250
40
180~260
200
PFQ1315
600
300
40
200~300
250
PFQ1320
600
300
40
300~400
2×160
PFQ1520
800
400
40
350~550
2×250
PFQ1823
1000
500
40
550~850
2×400
PFQ2223
1200
600
40
850~1200
2×560

Characteristics of limestone impact crusher
Luoyang Dahua PFQ impact crusher has a unique three-cavity vortex design, large feed size; Strong rotational inertia and hammerhead impacting force, higher crushing capacity, better grain shape. High quality wear resistant material, long service life, ensure product shape and gradation stability. The crushing cavity lining plate and impact board are interchangeable, with strong universality, high utilization rate and reduced inventory cost.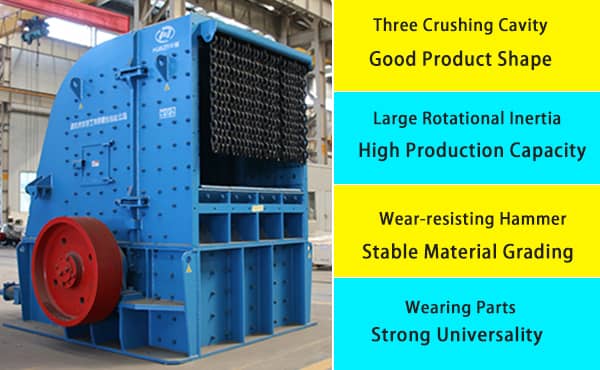 Different impact crusher price
We all know that no matter which manufacturer it is, the price varies with the type of equipment. In addition, the quality and technical level of a device are not the same, which will affect the price of the equipment. Equipment raw material supply channels are different, the cost price will be different. Luoyang Dahua is located in the middle of China, there are many raw material suppliers in the surrounding areas. With convenient transportation conditions, the cost price of equipment is cheaper than that of manufacturers in other areas. In addition, we are factory direct sales, without any price difference, look forward to building cooperate with you wholeheartedly.